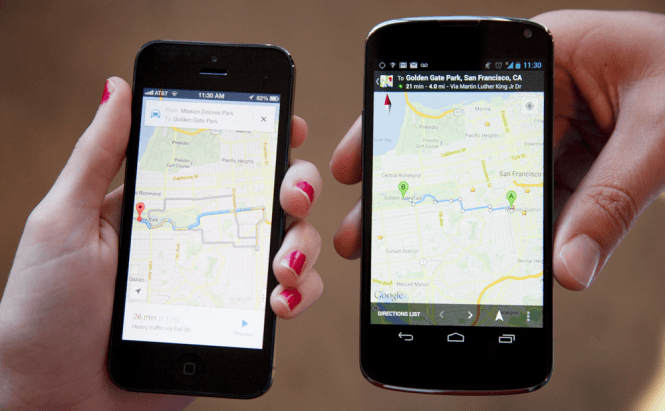 Google Maps for iOS Just Got Better
Google recently launched a new update for the iOS version of Google Maps. Version 4.4.0 of the application comes with four enhancements which will make the tool easier to use and more effective: improved directions, coloring for transit lines, Zagat filtering for restaurant searches and full-screen view. Let's examine each of these improvements and see exactly what they do and how useful they are to the regular user.
Full screen view - I guess there is no need to explain when it comes to this new option. This feature hides the toolbar so that you can see the map on the entirety of your screen. Since we are talking about phone displays, even a quarter of an inch of visibility may give you the extra bit of information you need. To activate the full view tap your screen (make sure you hit an empty spot so you don't trigger additional information about a location). Do the same thing in order to bring back the toolbar.
Coloring for public transit lines - makes finding your public transportation routes a lot easier. This function is activated automatically, so you don't need to perform any kind of special action. The colors will simply appear on your screen, helping you quickly distinguish the bus, train, etc. that you need to take.
Improved directions - this update doesn't only help the app offer you better (quicker) directions for you to get to your destination, but it also allows you to easily use voice commands and instruct the app on where you want to go. All you have to do is tap the microphone button and tell Google where you want to go: "Directions to Madison Square". Furthermore, you can make things go even faster by also mentioning the from point.
Better restaurant searches - from now on, whenever you are searching for a place to eat, you can filter the search to only show results which have a Zagat rating. Naturally, this feature only works for highly populated metropolitan areas.