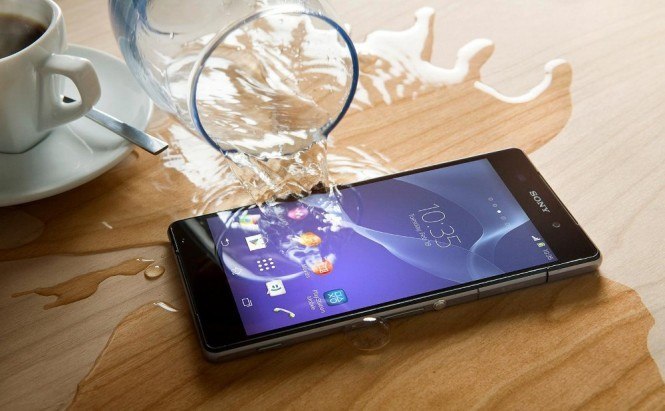 Unsinkable: 5 Waterproof Smartphones
One of my friends recently lost his long-awaited brand new smartphone simply by talking on it while washing his hands; a son of another friend of mine liked to fill the bathtub with water and throw the phones of his parents' guests into it... A list of all the ridiculous ways to accidentally sink your phone seems to be endless. However, not only those who doubt their dexterity and attentiveness should take a look at waterproof smartphones, but also those who can't imagine their lives without travelling and adventures. You can take such phone wherever you go, even if you have to cross the river or cycle in the rain.
Perhaps, many people picture a waterproof phone as a thick and ugly rubberized device able only to make calls and do some basic stuff, but actually now they bare very little difference from most non-waterproof smartphones. Just have a look at these five models.
Samsung Galaxy S5
Samsung Galaxy S5
Just gone on sale, the dust- and waterproof Galaxy S5 is provided with a fingerprint scanning function, heart-rate sensor and apparently has all chances to compete with the previous Galaxy S4 Active. The screen became slightly bigger (5.1 inches compared to 5 inches), the battery capacity has increased up to 2800 mAh, but, unfortunately, this rumored model has the same old plastic design and in general doesn't seem to be a complete overhaul of the S4. As for the water resistance, thanks to the IP67 standard the Galaxy S5 is able to dive up to 3 meters; you can take high-quality photos or even HDR 1080p videos of stunning underwater nature just by pressing the volume button (however, you should notice that its touchscreen doesn't work while being under water, so the functions will be strictly limited).
HTC Butterfly
HTC Butterfly
This smartphone with, as it may seem, a bit feminine name, looks really accurate, rather thin and feels good in the hand despite the 5 inches screen. Though it demonstrates good performance and high speed of work, the non-removable battery capacity of 2020 mAh is not that much as 2500 mAh that we are used to seeing in other latest models. So if you're thinking about buying this phone, you will have to sacrifice the battery life for the memory card slot and HD display. The manufacturer doesn't say anything about the dust proof but ensures that Butterfly is protected against water jets at all angles and a flow rate of 12.5 liters/min for 3 minutes from a distance of 3 meters (IPX5 degree of protection). And as it can be seen from the video below, unlike the Galaxy S5 it does not show any bugs even when the screen is not completely dry.
Sony Xperia Z1
Sony Xperia Z1
While the release of the Sony Xperia Z2 is delayed, without any doubt, the Xperia Z1 continues to hold one of the leading positions on the market. It is famous mostly for its unique 20.7 MP camera, curvy design with mirror elements and huge variety of accessories. A Snapdragon 800 processor, a micro SD slot and a 3000 mAh battery further increase its attractiveness. Being dust- and waterproof, it can spend up to half an hour in fresh water at depths up to five feet, but only in case all the ports and connectors are closed with special latches. Actually, in normal mode all these flimsy caps for ports can be really annoying if you need to quickly plug in some cable or headphones.
Huawei Ascend D2
Huawei Ascend D2
The Ascend D2 is a solid-feeling phone that represents mostly a high-quality screen, with no soft keys. Just like the Xperia Z1, this product of a well-known Chinese company has a 3000 mAh battery, weights 170g and has a 5-inch display. Unfortunately, it does not support SD cards, so you will be limited with 32 GB of memory (however, it seems not that bad for internal storage!). Obviously, the Ascend D2 is also water resistant like any other phone on this list. A small shower will not harm it; but like in case of the Galaxy phone, thes reaction will be a bit retarded if the screen has some water drops on it.
Sharp Aquos Phone Zeta SH-01F
Sharp Aquos Phone Zeta SH-01F
Actually, Sharp introduced a few waterproof phones during the last years, even such crazy model like Docomo SH-06D Nerv Edition inspired by the Evangelion film. Speaking of the big-screen phones, it is worthwhile to have a look at the Aquos Phone Zeta SH-01F model released this winter, which, together with the HTC Butterfly, is the lightest phone (less than 140g) within the selection. Battery capacity and processor are equal to those of the Xperia Z1, and the phone generally seems to have everything to please the gamers, music fans or social networks lovers. However, even though it comes in three colors, it is hard to say that the design somehow stands out among the mass of other phones, rather resembling some hybrid of other companies' smartphones designs. The degree of protection is IPX5/IPX7, so it can survive under powerful water jets and can dive with you on the meter depth.
To sum it all up, all these phones have both advantages and drawbacks, vary in price and availability so its up to you to decide what features are the most important to you and what disadvantages you can forgive. All of them are consistent with the stated functions, although some of them have a few limitations. Still, at least you won't have to worry that you forgot to take your lovely smartphone out of your jeans' pocket before laundering.