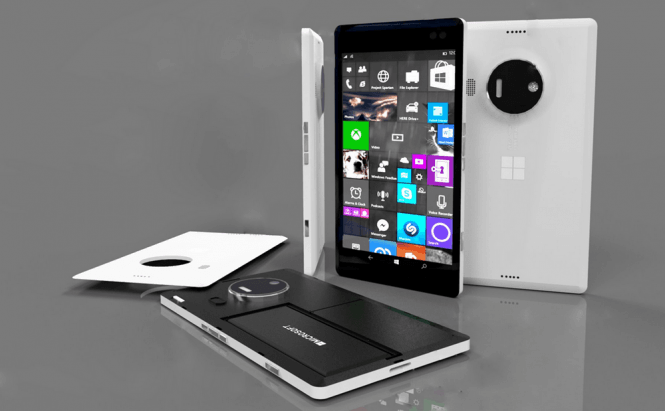 Windows 10 phones Lumia 950 and Lumia 950 XL are here
At its recent press event, Microsoft launched not one, but two top-of-the-line handsets: Lumia 950 and Lumia 950 XL. The phones look great, offer flagship-like technical specs and even sport a few awesome extra features, but they come with a price to match. The first one costs $549, the latter $649 and they will both start shipping out this November. Additionally, the IT giant also revealed a low-end Windows 10 phone called Lumia 550 which will become available in some European countries this December and will cost just $139.
Before we dabble into the technical specification of the devices let's first talk about some of the features that make these phones special. Both the 950 and the 950 XL model will have Windows 10 pre-installed and offer support for Continuum (which turns the smartphones into lightweight desktop computers). Furthermore, the two come with liquid cooling, optical image stabilization and something called triple LED RGB (for the rear camera), which, according to Microsoft, completely eliminates the red eye effect.
Newest Lumia Models
Under the hood, Lumia 950 offers a hexa-core Snapdragon 808 CPU, 32 GB of storage space (expandable with a microSD card ) and a battery of 3,000 mAh. Additional features include a 5.2 inch display with a 2560x1440 resolution, a 20 MP rear camera and a 5 MP front one. As you can guess from it's name, Lumia 950 XL is the larger version, sporting a 5.7 inch AMOLED display with a 560x1440 resolution, an octa-core Snapdragon 810 processor, a 3,340 mAh battery and 32 GB of storage space (also expandable with an SD card). The cameras specs are identical to the ones from the 950 model. Moreover, there are a few other features that both devices have: USB-C ports (instead of MicroUSB), support for wireless charging, NFC chips and a glance feature which shows you key notifications as soon as you take the phone out of your pocket.
And, in case you're curios about the cheaper Lumia 550, here's what that phone has to offer: a.4.7 inch screen, a 5 MP rear camera and 2 MP front one, a quad-core Snapdragon 210 CPU and 8 GB of storage space. Unfortunately, this device will not offer Continuum support, so if that's what you were looking for, you will need to find a different option.