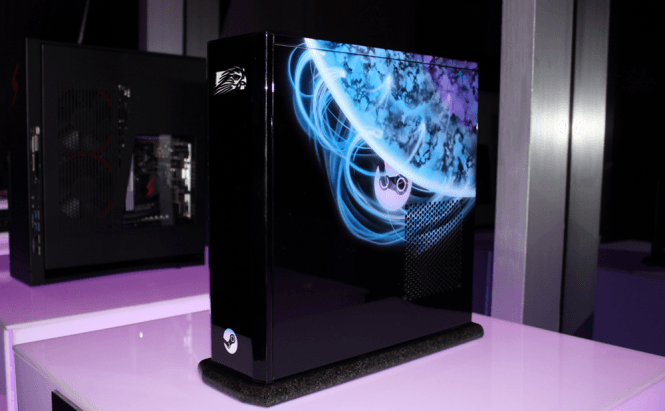 All You Need To Know About Steam Machines
It's been a while now since consoles like PlayStation, Xbox or Wii have run the market with no other opponents in sight. That time will soon come to end as this November Valve and its partners are bringing to the market no less than 15 Steam Machines (small-sized gaming PCs) which are designed to fit in your home theater cabinet. In all honesty, this is the first project that actually seems like a viable replacement for the traditional gaming consoles. All these devices are powered by Steam OS, an operating system developed by Valve and based on Linux.
Each machine will require Steam Controllers (a device which is supposed to emulate the PC gaming experience on a console-like controller). Furthermore, you will also be able to connect Steam Link (a gadget that lets users stream their content across any other machine or PC on the same network). Since they will probably become a mainstream product soon enough, let's talk a little about every Steam Machine and see which ones are worth spending money on. Just remember that even though most of the hardware components have been officially announced, a lot can change during the following six months, nothing is set in stone.
Alienware Steam Machine
Alienware Steam Machine
When it comes to gaming, very few names can be placed in the same category as Alienware. Their Steam Machine's starting price will be $480 (actually it's $479.99 but let's not waste our time with trivialities) and will feature i3, i5 or i7 CPUs, NVIDIA Geforce GTX - 2GB GDDR5 graphic cards, between 4 and 8 GB of RAM and hard-disks ranging from 500GB to 2TB. Each system will ship out with Steam OS and one bundled Steam Controller.
Alternate Steam Machine
Alternate Steam Machine
With prices ranging between $1,100 and $2,000, these devices should be considered middle / high-end Steam Machines. The basic (cheapest) configuration includes an i3 CPU, a NVIDIA Geforce GTX 750Ti graphics card, 8GB DDR3 RAM and a 500GB SSHD while the most expensive model packs an i5-4670K processor, a NVIDIA Geforce GTX 980 GPU, 8GB DDR3-1600MHz of Memory and a 2TB SSD.
Asus ROG GR8S
Asus ROG GR8S
Asus may be overdoing it a little on the tooting its own horn (especially when you take a look at the name of its Steam Machine: GREAT S), but there's nothing wrong with having confidence in your product. The prices for this series start at $700, but unfortunately we don't have an exact configuration for all the devices. What we know is that Asus Steam Machines will pack either an i3 or an i5 CPU, NVIDIA Geforce 9-series graphic cards and between 4 and 16 GB of DDR3 RAM. I also feel obliged to mention the design of the device, which is probably the best looking one out of all 15 available.
Digital Storm Eclipse Steam Machine
Digital Storm Eclipse Steam Machine
Priced at $700 and packing an Intel Pentium G3220 CPU, 8GB of RAM, 1TB of storage space and a NVIDIA Geforce GTX 960 2GB, Digital Storm Eclipse seems like one of the less spectacular Steam Machines that are available. However, what makes it interesting for the more seasoned gamers is that the device has plenty of room for hardware upgrades in case you're tempted by the newest technology on the market.
Falcon Northwest Tiki Steam Machine
Falcon Northwest Tiki Steam Machine
Tiki's Steam Machines are the most expensive ones on the list, but their features are unmatched. I especially liked the liquid cooling for the CPU and the possibility to overclock your components. The configurations are completely customizable and the customers can choose from a wide array of components: Intel Core up to i7-4790K, NVIDIA Geforce GTX 900 series, including Titan and Titan-Z class, up to 16 GB or RAM and storage to up 8TB SSDs.
Gigabyte BRIX Pro
Gigabyte BRIX Pro
This Steam Machine costs $600 and under the hood you will find an i7-4770R CPU and an Intel Iris Pro graphics 5200 GPU. Unlike all the others on this list, the device doesn't come with Steam OS pre-installed and offers you 2 x SO-DIMM DDR3 slots and a 2.5 inch slot for a SSD or SATA hard-disk. At the moment, this doesn't sound very appealing from the regular consumer's stand-point, but a lot can happen until November, and opting for this product may actually be advantageous.
iBuyPower SBX
iBuyPower SBX
With a price starting at $460, iBuyPower SBX is the cheapest Steam Machine available. The device includes an AMD Athlon™ X4 840 CPU, a 1GB GDDR5 ATI Radeon™ R7 250X graphic card, 4 (up to 8) GB or RAM and between 500GB and 1TB of storage space. Unlike any other Steam Machine, this one can stand horizontally as well as vertically, and, if you are a fan of the consoles, you will probably really appreciate its design.
Maingear DRIFT
Maingear DRIFT
This Steam Machine is probably the most customizable one that you will find. With configurations that can include Intel, Nvidia and AMD hardware and the possibility to stack two HDDs, Maingear DRIFT lets you purchase exactly the kind of product that you want to have. Additional advantages include liquid cooling system and the possibility to customize the case with any color that you desire. The price for such a device starts at $850.
Materiel.net Steam Machine
Materiel.net Steam Machine
This Steam Machine only comes in a single version which costs $900. Even though the HDD and RAM details haven't yet been revealed, we know that device will encase an Intel Core i5-4440 CPU and an overclocked GTX960 GPU. Moreover, despite the fact that you can't see it in the image presented, the simplicity of its design makes the device look great and easily integrable with any kind of furniture you might own.
NextBox
NextBox
NetBox comes in three versions which will cost you between $800 and $1,300 USD. The cheapest model features an i3 CPU, a GTX 750 GPU, 8GB of RAM and 1TB of storage space while the most expensive one packs an i5-4460 processor, a GTX 970 graphics card, 8 GB or RAM and a 512GB SSD. As far as I'm concerned, neither its design nor its configuration are that great, but that doesn't mean it isn't worth checking out.
ORIGIN OMEGA Steam Machine
ORIGIN OMEGA Steam Machine
The ORIGIN OMEGA is another top-of-the-line, highly customizable Steam Machine. This device will cost you between $900 and $5,000+ and at its maximum potential can encase an i7-4770K CPU, 3-Way Nvidia GTX 980 graphics cards, 32GB of RAM and 14TB of storage space. Despite its seemingly huge hardware storage capacity, the case is quite small and can be purchased in three versions. The device was originally designed as a dual boot (it should ship out with Steam OS and Windows), but Microsoft's opinion on the matter is yet unknown.
Scan 3XS ST Steam Machine
Scan 3XS ST Steam Machine
Priced between $1,000 and $1,300, the Scan 3XS ST Steam Machine is available in 3 versions. The cheapest one encases an i3 CPU, 8GB or RAM (up to 16GB), an 120GB SSD (you can choose a larger one) and a GTX 750 Ti GPU, while the top one packs an Intel i5 processor, a GTX 970 graphics card, 8 (up to 16) GB or RAM and a SSD of 120 GB (larger ones also available). If you're having second thoughts about buying this machine because you aren't familiar with the manufacturer, maybe knowing that it's the one in charge of making PC for the British Royal Court will put your mind at ease.
Syber Steam Machine
Syber Steam Machine
Priced between $500 and $1,400, the Syber Steam Machine is my favorite from all the available options. The reason behind my opinion is that it is the only one fully upgradable with traditional computer components without any kind of hassle. So, if there is a part that you like that it is not available in the manufacturer's offer, you can still purchase it and add it to your setup. There are 6 available models to choose from, the top one featuring an i7-4790K CPU, a 4GB GTX 980 GPU, 8GB of RAM and 1TB of storage space.
Webhallen S15-01
Webhallen S15-01
Webhallen offers a single preset configuration which includes an Intel i5-4460 CPU, a 2GB GTX 960 graphics card, 8GB of DDR memory and a SSHD of 1TB that. This Steam Machine comes with a price tag of $950. What's impressive about the device is its aluminum-built Bitfenix Pandora chassis which looks quite elegant and the low-noise features that make it one of the best Steam Machines you can find.
ZOTAC Steam Machine SN970
ZOTAC Steam Machine SN970
ZOTAC is a small yet impressive Steam Machine. Priced at $1,000, this device includes a sixth generation Skylake Intel CPU (a line of processors which haven't yet been released to the general public), a 3GB GDDR5 GTX 970M graphics card, 8GB of DDR memory, and two hard-disks: a 64GB SSD (for booting purposes) and a traditional hard-drive of 1TB for your storage needs. The device comes with Steam OS preloaded and is bundled with a Steam Controller. As far as I can tell the customers will be able to upgrade the memory and storage components, but the CPU and GPU will have to stay as they are.
If you were wondering about how serious Valve actually is about this Steam Machines, all I can tell you is that they are quite invested in the project. The Steam marketplace now has an official hardware section, so if you want more details about any of the devices, or if you wish to pre-order, you should check out this link.