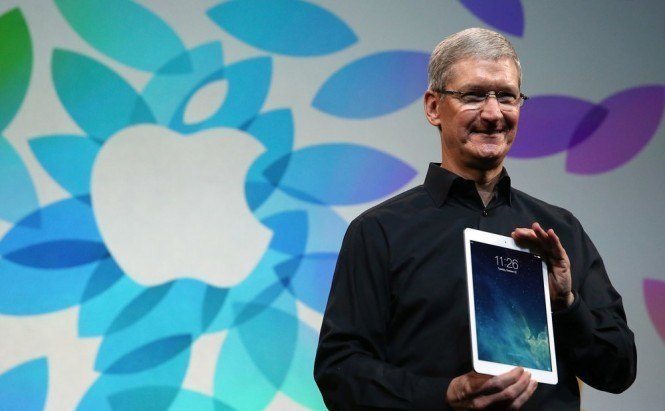 And Now for Something Completely Different
This week will go down in Apple's history as a week full of novelties. Once again, you can throw away your tablets and computers as outdated junk, because the real history starts now.
One of the long-expected new products is the new iPad, called iPad Air, the fifth in the line of 10-inch tablets. The tablet is 20 percent thinner than its predecessor, at just 7.5 mm; and it's the most significant redesign we've seen since the iPad 3. The highlight, however, is the weight: at just 1 lb (about 450 grams), we can safely say it's the lightest tablet in Apple's lineup and possibly among other 10-inch tablets. Its beautiful design remains pretty much the same, so you'll feel like you're looking at an old friend. The screen size (9.7 inches) and the resolution (2,048 by 1,536) remain unchanged, so no surprises here either. However, like the new iPhone, the iPad Air is now running a 64-bit architecture on an A7 chip. Whether that's something you'll notice – that's a question that you'll have to answer for yourself. Keep calm, we're moving on to the small bits: a 1.2-megapixel FaceTime camera, a 5-megapixel iSight camera with 1080p video on the rear, dual microphones, Bluetooth 4.0, and a digital compass. Boo-ya! Oh, wait, I haven't mentioned the prices yet. These start at $499 for a 16GB Wi-Fi version, with the cellular model coming in at $629. I'll have to look forward to November, when I'll get the chance feel the thing, come in touch with the beauty of the iPad Air, but I can already say that it's really a great step on Apple's part.
iPad Air
One more iPad-related thing to mention: there was also an upgrade of the iPad Mini, which has now also gotten a Retina display and a 64-bit A7 processor. In terms of its design, iPad Mini 2 is strikingly similar to the original iPad Mini, so you can't find anything exceptionally new there. There are absolutely no other significant differences in comparison to the first iPad Mini, but that's not necessarily a bad thing: it's light and fast, colored in silver with white and gray with black – what else would you want? The iPad mini 2 has a starting price of $399 for the 16GB Wi-Fi-only version, with the 4G iPad mini 2 coming in at $529 and up (depending on the amount of internal storage).
iPad Mini Retina
Are you used to desktop workstations resembling a perforated box with handles known as Mac Pro? Forget about those. Apple presented something completely different: the new Mac Pro is a tiny aluminum tube that is eight times more compact than its predecessor, all of them. With the innovative design and the power packed into this cosmic case, Apple surprised even Stephen Wozniak.
But what is inside the new Mac Pro, exactly? Well, all the major components are positioned around a triangular thermal core, which distributes heat evenly. The technical specs are quite impressive, too: this monster of a computer has the latest Xeon processors in quad-, 6-, 8-, or 12-core configurations; dual station FirePro GPUs with up to 12GB of GDDR5 VRAM, 4K video support, PCIe-based flash storage, ECC memory, and six Thunderbolt 2 ports. In the words of Daft Punk: harder, better, faster, stronger. As for the price, well, it's equally impressive, I'd say. Mac Pro starts at $2999 and will ship by the end of the year. What can I say? The new workstation is like a bombshell (and a little bit like Darth Vader), it's a vision of the future. It's compact, quiet, packed into a stylish case, and provides unparalleled power for Apple's professional apps, like Final Cut Pro X, Logic Pro X and Aperture. It also ships with OS X Mavericks.
If you're wondering how this beast can be quiet, let me reiterate: it has just one single fan, right in the middle. It's also quite eco-friendly, as it consumes 70% less power than the previous version of Mac Pro.
Mac Pro
Whew, let's take a breath here. So Apple has definitely proven its leadership in the tech market, again; but there certainly were some things that didn't live up to my expectations. And I think I'm not alone in this feeling. I expected something really new with the iPad Air and the iPad Mini 2 besides new processors and Mini's better display. I don't mind the unchanged design, but there is practically nothing else to say about the new tablets. Where is our fingerprint identity sensor? Do we have to wait another year for that one? And as for Mac Pro, well, it's stylish and modern, there's no denying that; but how am I going to put my professional PCIe cards into it, or how do I upgrade the system in a few months? There's no telling.
Still, we're in for some quality Christmas presents this year, that's for sure.