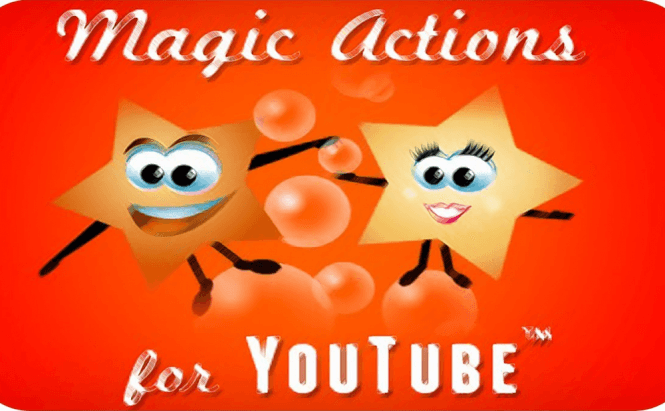 Enrich Your Youtube Experience With Magic Actions
A new browser plug-in can make your YouTube experience much more convenient and enjoyable. Magic Actions for YouTube is free and works with the most popular browsers on the market: Google Chrome, Mozilla Firefox, and Opera.
Magic Actions offers a bunch of useful features that people who spends a lot of time on YouTube will surely enjoy. Here's what this plugin can do:
Auto HD mode - this enables you to set the default video resolution that you prefer. You can take your pick between the available options (360, 480, 720 or 1080) and each YouTube video that you watch will automatically start with the specified quality (if it is available).
Bypass country restrictions - some videos will not display because their uploader decided to place region restrictions. This setting will automatically search and view videos using the Worldwide English settings, thus helping you avoid most country-based restrictions.
Cinema mode - if you actually watch YouTube videos instead of simply using the website as background music while you work, then cinema mode is something that you will probably like. This feature hides all the suggested videos from the right side of your screen and puts the video that is playing in the middle of the screen. Furthermore, it also surrounds the player with a different color "accent lighting" which makes it more relaxing for your eyes.
Stop autoplay - when watching videos from a playlist, YouTube will automatically play the next one. This can be really nice, but it can also be a nuisance and the problem is that there isn't a reliable way to permanently turn it off. Magic Actions for YouTube can help you with this as well, stopping the website from autoplaying its content.
Easier sound volume control - another major inconvenience for YouTube is that turning the sound volume upward or downward directly from the player's settings required a bit of effort. This extension allows you to quickly change the sound volume either by scrolling your mouse wheel or by holding your right mouse button pressed and moving the cursor up or down.
Customize the comments section - if you are one of those who like to see what other people have to say, then the ability to customize the way that the comments are displayed can be quite cool. With this plugin you will be able to automatically see advanced information about each user, his country flags, custom avatars, etc.
Video filters - Magic Actions is also capable of applying image filters to the YouTube video that you are currently watching. You can turn the image upside down, mirror it, use black and white effects, vintage, high contrast, etc.
Other features include default add blocking, automatically annotations hiding, player controls auto-hiding, speed booster, etc.
Magic Actions for YouTube can be found on this page. In order to change its options you will need to either look directly below the YouTube player and click on the third button (from left to right), or access them from your add-ons/extensions menu in your browser's settings.