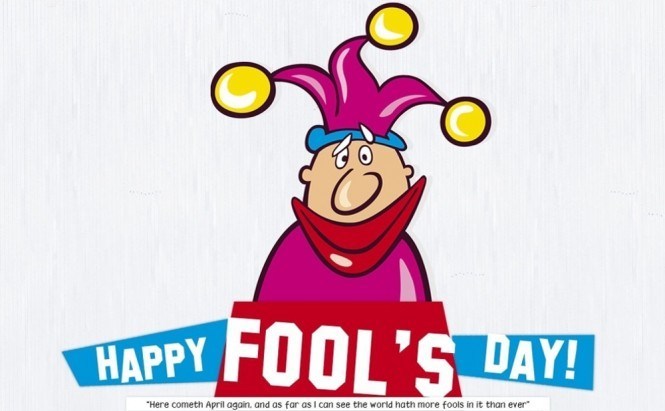 It's Fool's Day: Top 5 Funny Sites
Most of us have to work for 8 hours every day, so we spend one-third of our life on serious matters. The same amount of time we spend sleeping. And the rest is divided between housekeeping and other chores, often leaving no time for enjoyment.
Today is the Fool's Day, however, and it is the perfect day to have fun. So we've decided to tell you about some amusing websites that could help you get through the day in high spirits despite your best friend has just played an embarrassing joke on you. Sounds good? Well, let's get started then.
The Useless Web Looks Like This
This site is a real treasure trove for those who like random stuff. When you press the only button on it, you are redirected to a random website of no importance or any practical use. You may end up on a website with a hypnotizing blue ball processing plant, which is quite good for meditation. Or you may find yourself face to face with a licking dog, which is utterly adorable. You may also find yourself on the site by Vadim Ogievetsky, which consists of a ball that you repeatedly split in four by pointing your mouse on it, gradually revealing a hidden picture behind it. It is very captivating. Of course, there are also much more intriguing sites you may be redirected to, like Staggering Beauty or running dogs. Try challenging your eyesight with the latter – can you find the mouse pointer on the page after you spend some time on it?
All these are completely impractical and are just for fun; but there are also websites that could give you nice ideas even on a silly day like this. Here are some examples:
Incredibox Band
If you like music and always wanted to compose something (but felt like you're tone-deaf), you'll love this site. It allows you to create music compositions from a bunch of preset sounds, noises, rhythms. It has a simple design, and you can't but smile looking at the accompanying animation.
Record Tripping Tricky Game
It is a browser-based puzzle game controlled with the mouse scroll wheel and the left button. It is quite cute and, most importantly, pretty challenging. If you like puzzles where you need to get a ball through a labirynth, or open a safe, you are going to love it. The control scheme feels tricky at first, but then you're starting to appreciate how natural it feels.
Line Rider Track
This one is incredibly simple and is tons of fun. You are drawing an endless line and a bike rider is riding along it, jumping on bumps and speeding up on slopes. There is something mesmerizing about these slides, jumps, and falls. Also, if you think you've created something really incredible, you can record the whole trip.
Star Wars Weather Forecast for New York
Do you like Star Wars? If you do, then you might very well know the names of the planets and stars from the legendary fictional universe. In this case you will enjoy this unusual weather service: it is not just temperature and humidity numbers, Tom Scott has created something inspiring.
And that's all for today. Enjoy the holiday, have fun, play jokes on others and prepare to be played jokes upon. When you're done fooling around with the Internet, have a look at this page, and then go visit your friends. Have a nice April Fool's Day!
Picture credit: yeahwallpaper.com.