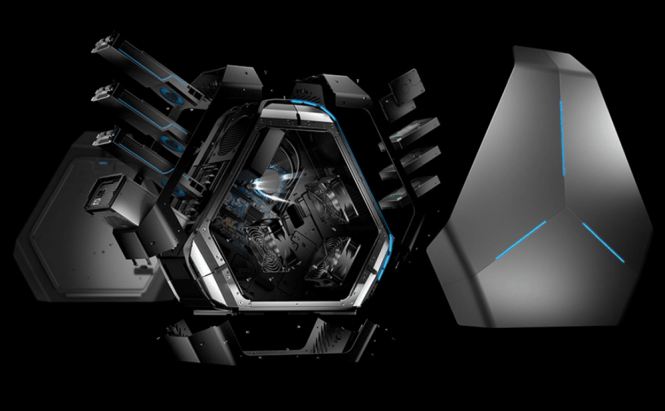 Meet Alienware Area-51, a PC That Looks Ready for Space Travel
If Apple can try to sell you a $10,000 smartwatch, why can't Alienware try to make you purchase its mind-blowing Area-51 desktop PC. Dell's new star product appeals to every computer lover's nerdiness with its spaceship-like design and ridiculously overpowered hardware components. Judging by its looks, horsepower and price, this computer is designed for a very select class of customers, but if you actually own one of these, you will make pretty much everyone green with envy.
Let's begin by talking about what's under the hood: the liquid cooling for the CPU is a neat feature, that was pretty much mandatory for this type of case. From what I've seen, no matter what option of Area-51 you choose, it will ship out with a fourth generation Intel i7 chip. The storage section is situated behind the motherboard and can be expanded beyond the regular SSD and traditional HDD which most people use. What's really cool are the three graphics card slots with special built support designed to keep the cards in place no matter what happens to the case. Lastly, as far as memory is concerned, the motherboard offers 4 DDR4 slots, so the PC is fully upgradeable and up-to-date with the latest technological capabilities.
Area-51
Going into the design of Area-51, this chassis is definitely one that tries to be as noticeable as possible. Not only is pretty big, but the LED lighting embedded on each side, along with the illuminated Alienware logo, make the case stand out no matter where you place it in the room. Because of its size, the product is quite heavy, weighing approximately 22 kg (48.5 lbs), but according to DELL each of the corners has been built to withstand up to five time the weight of the entire case. What this basically means it that, if need, Area-51 can also be used as a highly overpriced chair by an average adult. The only good news on this subject is that the chassis has a handle on its top side, making it somewhat easier to carry.
If you're wondering how much such a technological wonder costs, I'll tell you, but you'd better sit down for this. Depending on the hardware that you choose, purchasing an Area-51 PC will cost you somthing in the range from $1,699.99 to $5,400.
For more details, visit the DELL website by clicking this link.