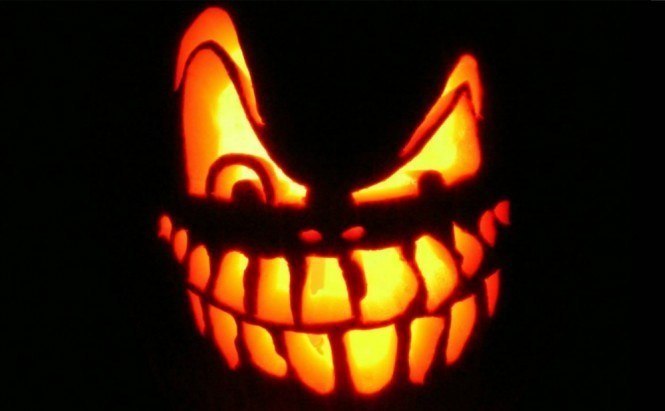 Spooky Games For All Saints' Night
But before I go into speaking about the cool games you could be playing on Halloween, I'd like to mention a few nice screensavers to help you recreate the Halloween spirit on your desktop and spook up the atmosphere a bit. Try Halloween Adventure Screensaver (here you will travel through beautiful and spooky landscapes), Halloween 3D Screensaver (meet the frightening Jack-o-Lantern, who will protect you from the monsters), or Dark Halloween Night 3D Screensaver (this one just oozes the right atmosphere).
So, with your spookified desktop out of the way, here are the top three Flash games for All Saints' Night. I've decided to list the games in the order of their scariness, but they all set the mood pretty well.
The Third Place Goes To: Ghost Train Ride
The Long Jump in Ghost Train Ride
Admittedly, Ghost Train Ride is not spooky at all, but it is filled with Halloween. If you've ever dreamed of having your own roller-coaster, this is your chance: you're controlling the cart, speeding up or slowing down. The game is not as straightforward as it may sound, though. There are physics involved in it – so if your train is moving too quickly you may fall out of a loop and crash, while moving too slow can make you fall into a gap. Each successfully finished track adds more passengers and carts, making your roller-coaster longer, while each crash shortens it. I won't tell you all the secrets and surprises the game has up its sleeve; let's just say that it doesn't seem repetitive at all. The only disadvantage of the game is probably its size: you can only play 15 levels before the game prompts you to purchase the additional levels.
The Silver Medal Goes To: Dark Ride Escape
Finding Clues in Dark Ride Escape
Have you ever imagined yourself locked in a spooky tunnel? Well, now you can. Dark Ride Escape gives you a number of puzzles to solve so that you can get out of the fun ride you're stuck in. You need to find three keys to get out, point-and-click style; and the hardest thing is to find clickable objects in general. The music deserves a separate mention, with its mystic atmosphere interlaced with eerie sounds produced by the inhabitants of the ride. This certainly adds to the scary mood of the game. The downside, of course, is that if you're really passionate about solving puzzles, you won't notice the spooky atmosphere at all. Still, the perfect combination of puzzles and scares, and with just the right difficulty level, gives this game a spot in our Halloween game contest.
And The Winner Is: Lodge Massacre
Solving the Mysteries of Lodge Massacre
This is for those who like really scary ones. You play as a lonely policeman investigating mysterious killings in a haunted place, with a revolver and several bullets to protect yourself against the mysteries inside (hope you do not mind a few zombies). The game is done in dark colors and has no music at all. All those squeaks, rustles, and howls interspersed with silence. Scary, isn't it? Allegedly, this game was inspired by the story from Resident Evil, so this speaks volumes. For better immersion, I recommend playing at night with all the lights off, and with creaking half-open windows for added realism. Seriously, this one is the scariest of the bunch, be prepared.
Of course, the list of Halloween-themed Flash games could easily contain twenty or fifty titles, so you'll have no difficulty finding a substitute. Still, these three should be a nice starting point – so have fun and let Jack-o-Lantern protect your beauty sleep.