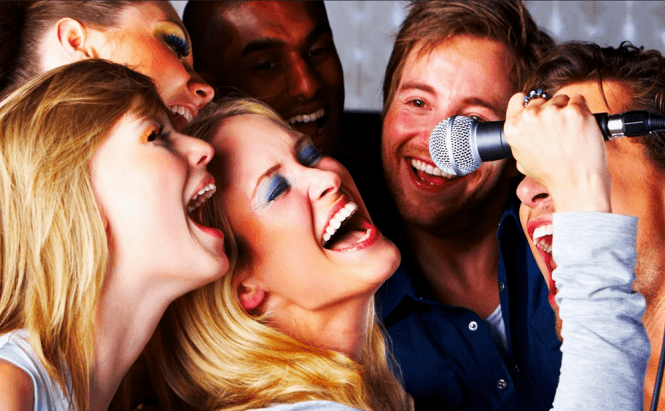 Throw a Great Party at Home with The Best Karaoke Players
Karaoke is a lot of fun. If you have a nice singing voice, it's one of the best ways to flaunt it and if you don't ... then you and the rest of the crowd will probably have a good laugh. Most of the times karaoke parties take place in bars, where they have some nice sound equipment and appropriate software, but you can easily do the same at home. All you need is a decent microphone, an average sound system (because let's face it, you are there to have fun, not to record the next platinum album), one of these applications and your friends in order to have an awesome karaoke party right at home.
Karafun Player (Free)
Karafun Player
From all the applications I've tested, Karafun Player was my favorite by a long shot. The first thing that you should appreciate about this tool is its intuitive interface. You may not believe me at first, but once you've tried some other programs of this kind, you'll quickly understand how important that is. Another really important advantage is that Karafun comes with a huge collection of free songs that you can listen to and sing along with just as soon you install it. Furthermore, there's also an impressive list of purchasable tunes, including the hottest new singles. Lastly, I enjoyed the fact that the app has special controls for duets, allowing you to adjust each individual voice to create a great harmony.
vanBasco's Karaoke Player (Free)
vanBasco's Karaoke Player
vanBasco's Karaoke Player is a pretty decent karaoke player, but I recommend installing it on a virtual machine or some kind of a sandbox. (I suspect that the application is infected with malware as both Jotti and VirusTotal websites have indicated something wrong with it, so be cautious.) But if you get passed that point, this tool is actually good at its job. The application can play MIDI and Karaoke files (KAR) and lets you adjust the sound by controlling the tempo, volume, etc. What's really cool is that you can mute any individual instrument from the songs that you are playing.
Siglos Karaoke Professional ($99)
Siglos Karaoke Professional
Siglos Karaoke Professional is a reliable karaoke application, with tons of sound customization options. However, this tool is more orientated toward professionals so if you plan to use it home and you don't need to go over the top to impress somebody, you might be better of looking for other options. The advantages of using this app include automatic silence detection and removal, singer announcements and a time guide that helps you easily answer the always annoying "when am I supposed to start" inner question. What I didn't like about this tool is that besides the fact that it's pretty expensive by itself, you also have to buy every karaoke song that you want to use separately, and you don't even get a preview track to check out how it all works.
Walaoke (Free)
Walaoke
Walaoke is a free and easy to use karaoke application. Unfortunately, its simplicity (which is this tool's greatest asset) is also its biggest disadvantage. With Walaoke you can easily add karaoke songs, create playlists and you can use your own videos as background (including the feed from your own camera). However, when it comes to sound adjustments, you don't have nearly as many options as you would in any other software from this list. Furthermore, a few users complained about the fact that there were some times when the lyrics overlapped, thus becoming very hard to sing along with.
PDCJ Karaoki ($99)
PDCJ Karaoki
PCDJ Karaoki is a powerful karaoke tool, but not that easy to control, especially for beginners. Besides a huge amount of sound controls and several interface customization options, what I really liked about this app was the fact that it offers easy access to a huge catalog of songs that you can purchase. Another cool thing about the tool is that it allows you to use dual-monitors, so that the person on the mic can see the lyrics and sing along, while the one on the keyboard can keep adding songs and use the sound controls without interfering.
Karaoke 5 ($84)
Karaoke 5
Karaoke 5 may not have the best looking design that you have seen, but that doesn't mean it's not a decent karaoke application. This tool can play classic formats such as KAR, MIDI or VS (Visual Sheet), but can also work with a lot of other files, such as MP3, WMA, WAV, MPG and AVI. The paid version of Karaoke 5 offers several useful features such as a synchronizer and a mixing bench. Furthermore, the tool can also help singers improve their timing with its syllabication capabilities.
OneKaraoke ($179)
OneKaraoke
OneKaraoke is the most expensive application on the list, but I wouldn't say that it's also the best one features-wise. Even though the tool is capable of working with a large number of formats and supports dual monitors, I couldn't get over the lack of advanced audio controls. Furthermore, the interface may be neat, but it only runs in full screen mode and that can be a bit annoying. What I liked is that you can easily create your own categories, thus organizing the songs the way you want to. Lastly, OneKaraoke lets you print a tune index directly from its interface, and that is quite handy.