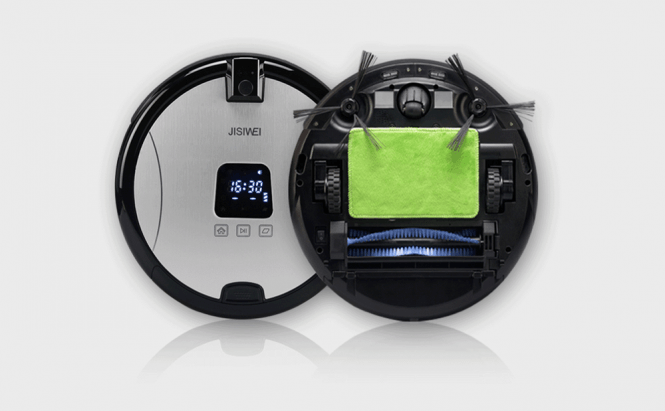 Autonomous vacuuming and home surveillance all-in-one device
I'm a bit of a slob, so I've always dreamed about a vacuum cleaner that could clean my house by itself. Of course I've checked out stuff like Roomba or Neato but, at the time, they seemed too expensive. Well, I've just seen that a new product called Jisiwei S+ has been added to the mix, and this one offers some interesting extra functions, especially useful for pet owners like myself. Unlike its competitors, Jisiwei comes equipped with inbuilt camera and WiFi which means that it can also act as a home surveillance system.
Remote control
This small robot can be controlled remotely with the help of an app that you install on your smartphone or tablet, has 7 cleaning paths so it can do its job even if you don't pay attention to it, protects itself against falls and comes with a dual-mode anti-scratching system. Additionally, Jisiwei S+ has auto-recharging capabilities and can also be turned into a mop so it's an all-in-one solution for your floors. As I said before, the device comes with inbuilt camera and WiFi which means that it is also capable of acting as a security system (sending an alarm to your phone whenever someone enters the house) and as a baby or pet monitor, providing you with video feed from your house.
Monitoring and anti-theft
According to the team developing it, a small number of fully functional Jisiwei S+ robots has already been produced and if the Kickstarter campaign gathers the necessary funds, the vacuum cleaners will start shipping out by November and will reach retail stores in December. The robot works with both Android and iOS devices, so you won't encounter compatibility issues; but it's made for wood planks and marble tiles, so I'm not sure how effective it will be on carpets. In case you're wondering about how much such a product costs, if you pre-order now, you will get it for as low as $249, but its official retail price will be approximately $399.
If you want more details or wish to purchase the product, visit the Jisiwei S+ Kickstarter page.