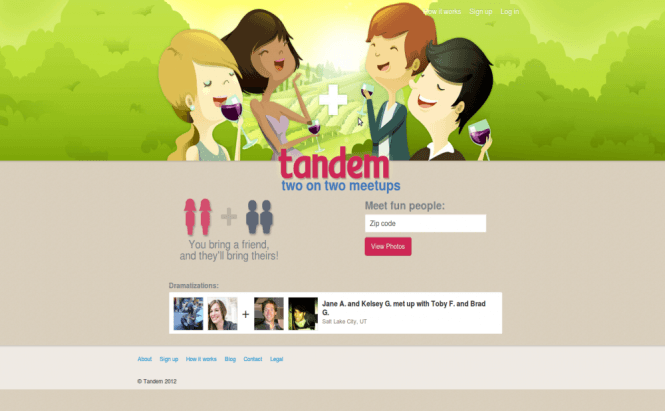 Double dates - the new format of virtual communication
"All you need is love" - remember this romantic song performed by the Beatles? Don't worry, you are still on Software Informer and we are not going to give up our software-related topics for glamour love stories. However, this one is indeed tied up with the most emotional topic ever – personal relationships, and more specifically Internet dating.
Internet dating is gradually becoming the only way for single people to find their like-minded halves. Besides, thanks to the kind of people it appeals to, virtual romance has grown into a very successful and effective business model, and that's why the developers of such networks try to leave no stone unturned to attract as many people of all ages, backgrounds, and ethnicities as possible. So did a San Francisco-based startup, Tandem.
This online dating website suggests its users a rather off-beat structure of Internet communication: a two-on-two get-together date. Tandem ensures that this double date will allow people seeking their true love to avoid those awkward situations and silences that may occur on blind dates - specifically first dates. It gives a real chance to single people, especially to self-conscious ones, since they can bring a friend to their online date with them, which will ease the atmosphere and make all participants feel a bit more comfortable.
Tandem profile
Ok, so if you are single and have a Facebook account, you can sign up without any hesitation. As Tandem integrates with the giant social network, after the signup your Facebook profile photo will be automatically applied to your Tandem account. Then, you are to fill in something like a questionnaire, and add your "Wings". The last ones are your friends that you wouldn't mind taking on a date with you. All this provides users with the necessary information about any person that they may want to build a relationship with.
For now, you can arrange such online dates in San Francisco, Los Angeles, Austin, Salt Lake City, Madison, Chicago, New York City, and Boston (the latter being the location where Tandem has launched). To me it looks like a very creative and handy idea. Maybe later on it will turn out to be a real top for the single.