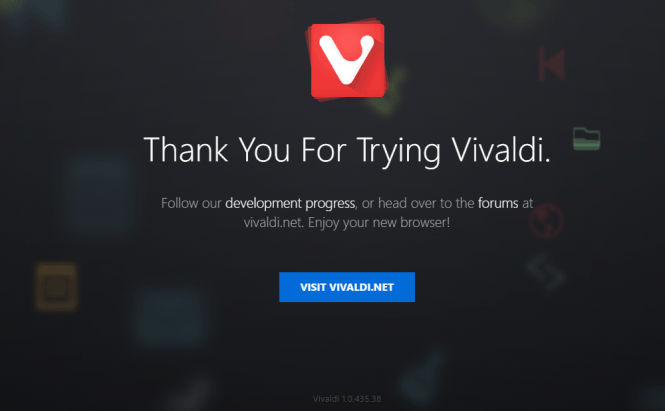 Vivaldi's first official release is finally here
After about a year of being available only as a preview and approximately 6 months of beta testing, we now have an official version of Vivaldi. Designed by one of Opera's co-founders and former CEOs Jon von Tetzchner, Vivaldi is a new web browser that was created for more sophisticated users, the ones who require extensive functionality while browsing the Internet. The official version of the application is available for Windows, Mac and Linux.
If you were wondering why you need a new browser, or what makes Vivaldi so special, its designers state that it offers some handy features that you won't find anywhere else. For example, if you have too many pages opened simultaneously, Vivaldi lets you stack multiple tabs together and group them by dragging and dropping tabs one over the other. One of the things that I like the most is that you can save multiple browsing sessions and restore them whenever you need to, so if you use a set of work-related tabs and another hobby-related ones, you can choose which one you want to be automatically launched when you start the application.
Additionally, the browser lets you customize your own mouse gestures and keyboard shortcuts, use a command interface to issue quick commands and help you easily take notes. Lastly, Vivaldi lets you use Chrome extensions, so you won't have to give up on the functionality that you're already used to.
Talking about today's official release of Vivaldi, Mr. Jon von Tetzchner stated: "Millions of people have already agreed that they want a better browser, one that puts them in control. Everything we build is in service of the user. We have no investors and their agendas to dictate our progress. There's no exit strategy and we're here to stay. All we want to do is give people a browser they're proud to use and that we're proud to call Vivaldi."
Vivaldi has been considered one of our "New Browsers That Have A Chance Of Making It Big" article ever since it was in its early development stages, so I probably don't need to tell you again that the browser is really worth trying out.