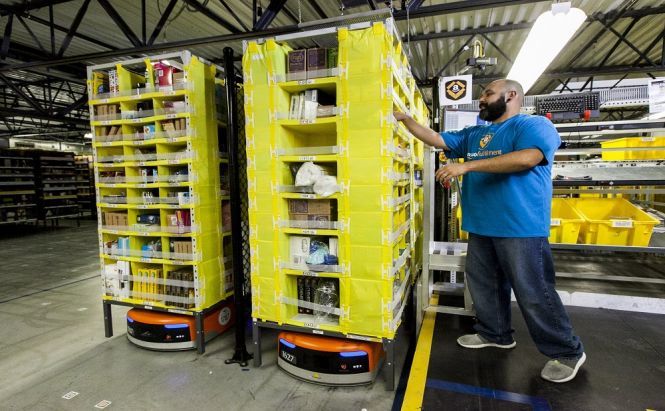 Amazon shows off its high-tech fulfillment centers.
While most of the companies prefer the 'backstage' to remain unrevealed, Amazon seems to be OK with it and proudly shows off the technological advancements that it has already taken on board. No, folks, this is not another piece of news about drones. Today Amazon allows us to take a quick glance at one of their eight generation fulfillment centers – the ultimate order processing strongholds where humans and machines work together to tackle the huge wave of holiday orders.
Kiva Robots (Photo by Business Wire)
The greater part of robotics, in particular these tiny yet extremely powerful porter robots, is produced by Kiva Systems, a company acquired by Amazon over two years ago. The small fellow on the image is working in one of the ten fulfillment centers and has more that 15,000 brethren across the US. A bigger innovation which Seattle-based company demonstrates is the so-called Robo-Stow. It is one of the largest mechanic arms on Earth which is capable of moving a really huge pile - 24 feet - of socks.
Amazon also said that the company hired over 80,000 seasonal workers to deal with the amount of holiday orders. Thousands of them are most likely to stay with Amazon as regular workers and experience the brand new "graphically oriented computer systems" that will allow them to process orders even faster.
It's always very exciting to see how huge companies like Amazon start integrating new technologies to the workflow. Nevertheless, the fact that Amazon hires so many employees proves that we cannot completely pass all the routine work to robots. At least not at this point.