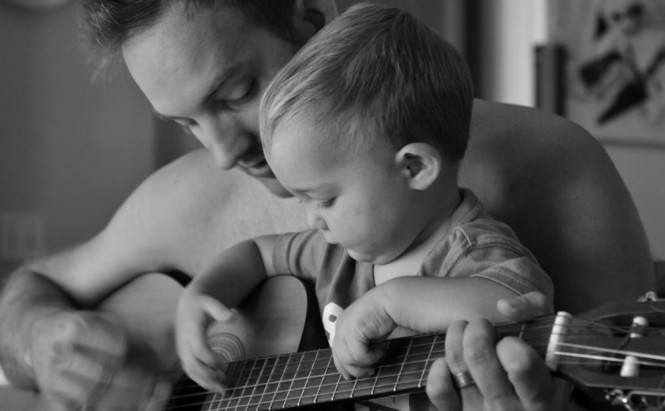 Drill Guitar Skills Into Your Hands
Learning to play the guitar often requires spending money on teachers and following some timetable. Alternatively, you can use helpful software to reach the set goal at minor costs. I want to tell you about two applications, a payed and a free one, which are positioned as mighty tools and can help you master guitar skills: Guitar Pro and Guitar Guru.
Guitar Pro
This piece of software is something greater than just a learning tool. It allows to create sheet music for quite a number of instruments. The program lets you have musical scores for several instruments within one file, arranged like page tabs in MS Office Excel.
By default all scores included in the track are played simultaneously and you hear the melody as it is. If you want to listen to one of them only, you can turn all other instruments off.
Speaking about possibilities for guitar studies, Guitar Pro proves to be very handy. First of all, there are huge libraries of song files which can be used to master your skills, even if you know nothing about notes. Alongside the classic stave, they usually contain tabs where strings are marked with lines and guitar frets – with numbers. These tabs are easy to read and study. The only thing you are to remember and study by yourself is which fingers are to be used. The chords may be noted, too.
Tabs Combined With Stave
One more helpful peculiarity of the application is the possibility to change the pace of the melody to suit your speed of play. Thus, Guitar Pro allows you to master the song and practice your guitar skills following the musical pattern in real time.
By all means, for having a wide functionality and providing rich possibilities for music creation, it just can't but be commercial.
Guitar Guru
Guitar Guru is built around a good idea: it shows a guitar fretboard with numbers, which tell you which finger to use and what fret to put it on. It is highly visual and doesn't require any skills in scheme reading. If you wish, you can also set the right hand to be shown, allowing you to master both hands simultaneously. Noteworthy, for the right hand you will be shown either a finger number or a mediator across the stings to be pinched. Guitar Guru also allows you to change the fretboard orientation for more comfort: the left-handed or mirrored view. With this application, you feel like having a teacher with a guitar in front of you, who does not only say what to do, but goes through all exercises with you.
Fretboard With Finger Numbers
At first sight, the tool seems very convenient and useful. Which it would undoubtedly be if not for one minor disadvantage. No song library is available for you to download. You'll have to convert your files to the required format manually. Still, if you want to learn at least some moves or chords, there are enough samples for that. In respect that the application is totally free, this inconvenience doesn't look so significant to put the program aside.
Making the Choice
It is not easy to decide which of the two to use. Guitar Pro provides you with a more classic view of songs and is perfect if you want to learn to play music pieces written in notes. While Guitar Guru allows for a simpler attitude to studies: see – repeat – play. You can learn some chords too, they are showed above the fretboard while the file is played. Probably, Guitar Guru would be more recommendable for beginners, as an easier and more visual tool, which wins for being free. Whereas, Guitar Pro will be the choice of people aimed at more professional skills.
Picture credit: www.bigredclifford.com.