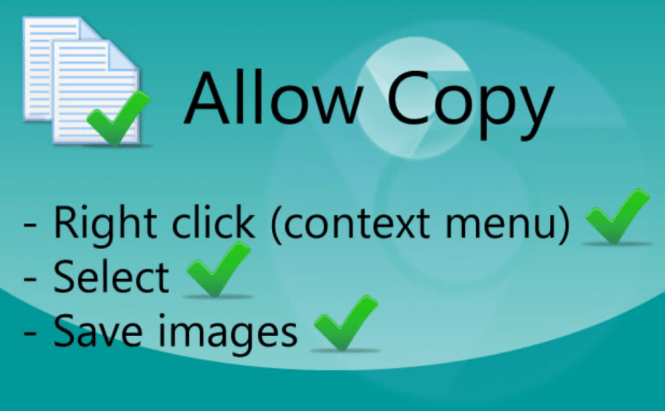 How to bypass the right-click blocking protection on sites
Certain websites owners don't like it when people copy their stuff and since it's easier to prevent than to react, they disable the option to use your right-click button while you're on their sites. As much as I understand their right to protect their data, there are times when you want to quickly share a joke or a link taken from the site, and you just can't. This won't only annoy the user, but also affect the site's traffic, so I decided to show you how to bypass the right-click blocking protection.
In order to disable your ability to right-click, those who create the website generally use JavaScript code, but the good news is that Java generally loads its settings user-side, which gives you some control over it as well. As far as I know, there are three major ways to work around right-click blocking:
manually disabling JavaScript in your browser;
using a browser extension;
visiting the website through a proxy site.
I will describe each of them and then you can decide which one you want to use.
Disabling the JavaScript
This is the most direct solution, but it has two major downfalls: first, it takes a bit of time to disable and enable the JavaScript, so if you're constantly working with websites that have right-click protection, this isn't the most time-effective workaround. Secondly, when you disable the JavaScript, the website will no longer be able to offer its full functionality. If you want to try it out, here's how you can do that:
Chrome
Disable JavaScript on Chrome
Chrome users will need to open the browser's menu, then click on Settings and press the small blue button which gives them access to the Advanced Settings. In the Privacy section they will see a button named Content Settings, which they will need to click. A new window will pop-up and the third section should be JavaScript. The users should simply select the "Do not allow any site to run JavaScript" option, then press Done and they're good to go.
Firefox
Disable JavaScript on Firefox
If you use Mozilla's browser, there's no visible way to turn off the JavaScript. To be able to do this, you will first need to type "about:config" (without quotes) in the address bar, then promise Firefox that you'll be careful with what you are doing and you will be taken to a long list of names. Type "javascript" (again without quotes) in the search box from the top of the page and look around for an item called "Javascript.enabled". In my case, it was the third entry on the list. Once you find it, double-click its value field and it should change from true to false. Now, simply go to the website that annoyed you and its right-click protection should be gone.
Safari
Since there are many Mac users who don't stray away from the default web browser, so I'm also going to show you how to disable the JavaScript on Safari. In the OS X menu, click on Safari, then open the Preferences. Now, look for the Web Content section and there you should find an option marked as Enable JavaScript. Disable it and you're done.
Extensions and add-ons
As far as I'm concerned, this is the best solution as it won't require you to constantly tinker your browser and it won't disable the entire JavaScript functionality. If you're interested, here are some of extensions that I recommend for this purpose:
Chrome
AllowCopy
When it comes to bypassing the right-click blocking protection, I prefer a tool called Allow Copy. This extension is light and effective; all you have to do is to click its icon whenever you're on the website that annoys you and you will instantly be able to use the right-click menu to copy and paste texts, or even save images. If, for some reason, you don't like Allow Copy there are several other options that you can try out such as Seo Enable Copy or RightToCopy.
Firefox
RightToClick
If you prefer using Firefox as your everyday browser, then I recommend installing an add-on called RightToClick. It's an effective solution that everyone can use, but what I really liked is that it also gives you full control in customizing which JavaScript functions you want restored and which should disabled. This tool can also block alert pop-ups, remove some timer actions and stop all kinds of weird functions that could be attached to the mouse click. Unfortunately, I don't know any other Firefox add-ons that offer the same functionality, but you if you don't want to use RightToClick, you could try installing SettingSanity, an extension that makes it easier for users to disable and enable the JavaScript completely.
Proxy sites
If you don't want to put in the extra effort into modifying your browser's settings or installing a third-party solution, there's a third option: you can use a proxy site. Basically this means that you will have to visit the website that's annoying you with its right-click protection through a different site. Proxy sites are quite useful as they mask your IP and they disable all the protections from the websites that you visit through them, but they also have a major downfall: the browsing speed is greatly decreased as you need to use their servers. If you're interested in this solution, I recommend trying Skull Proxy, but the most popular one seems to be Hide My Ass, so you can try that one out as well.
Now that you know how to bypass the right-click blocking protection on sites, you might also want to find out "How To Clean Up The Traces Of Your Online Activities" or check out the "Top 7 Chrome extensions to make the Internet easier to use".