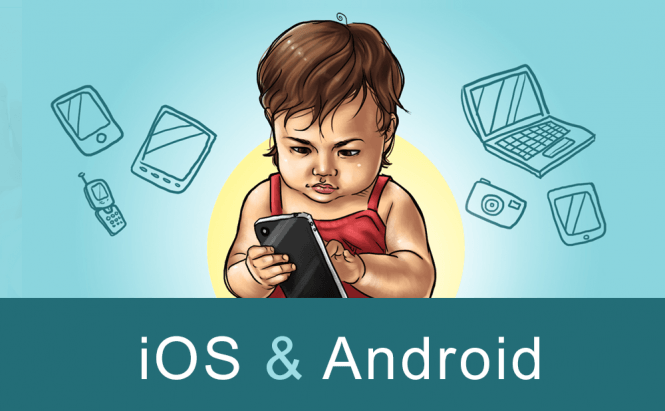 Set up Parental Control on Mobile
Safeguarding your kids on something as versatile as your PC is one thing. But when your kid has access to your smartphone or tablet; or, even worse, if you've decided to get them a mobile device of their own as a reward for their good marks at school, taking precautions and saving your nerves becomes a different thing altogether.
Parental control apps for iOS by Haley James
Well, if your kid begs you to give them your iPhone, iPod, or iPad, and you don't want to risk handing your everyday highly sophisticated life-in-a-box device over to someone who wouldn't take no for an answer, then your iDevice's built-in restrictions are the first thing to apply.
Although they all are all-or-nothing in nature, they can still guarantee you some comfort that your offspring's innocent 5 minutes with your iPhone won't turn into a night of backup and restore hell. Just go to Settings on your Apple device and choose General. After that, pick Restrictions, enter a 4-digit passcode and turn OFF those features you want to restrict access to. It's not the best "child-safe" method, but it's simple and still rather effective.
iPhone General Restrictions
In case these standard iPhone parental controls are far from cutting the mustard, there are some third-party apps you can download. Let me list a couple.
iWonder Surf provides you with a total control over your little one's web browsing. It's more than just a content filter: with iWonder you will feel ubiquitous and all-powerful, as it will show you not only the content your children have been surfing, but also exactly where and when they were going on the Web. Moreover, it allows you to monitor the frequented sites from any place on your computer or even your own iPhone.
If your lovely kiddies are addicted to watching online videos, the danger that they cone across offensive and explicit content grows with every minute. At this rate you will need Kidsafe YouTube to protect children against stumbling upon any inappropriate videos. All it takes is just to bookmark the content you consider reliable, and based on that Kidsafe YouTube will filter videos for your kids to watch. Additionally, the app supports pre-selected educational videos for children of different ages (toddlers, pre-school, and schoolers), which are updated weekly so there's always something new for your little video aficionados to watch.
Kidsafe YouTube
Besides videos and websites in general, there is yet another source of evil on the Web accessible via iPhone - email. If you fear it may be the case for your kid, you may be interested in Kids Email app. This is the only kid-safe email app in the App Store, and it provides a reliable and secure way for kids to email their mates and relatives. It allows children to get emails only from those people they know, and it sends copies of ingoing and outgoing messages to their parents' email account. Total control from anywhere you are.
Parental Control for Android by Nova Vozrak
There are no embedded parental control features in Android. Instead, you're restricted to 500-something third-party apps on Google Play, and I'm going to cover a few notable ones. Starting with an application named (somewhat unassumingly) Parental Control, I have to say right off the bat that it may be just a little bit too oppressive for its own good. It allows you to track almost everything on your child's device, from browser activity (also allowing you to block inappropriate sites and content at any time) to viewing the photos stored on the device. I do approve of the Internet blocking features and GPS tracking (the latter being useful in those cases when your kid is out for too long and you start feeling very nervous), but the rest sound more like the parent has serious trust issues. Because of these vast possibilities, it's best to inform your kid of the installed application, just in case.
They Differ in Everything
The next one I'm going to cover is intended for protecting your own device when it's being used by kids. The app is called Kids Place – Parental Control, and it definitely deserves some attention for its simplicity and ease of use. You just set up a password, add allowed applications (educational games, for example), and your kid will have their own workplace on your phone. The child won't be able to leave the app, as it requires entering the password you've set up, so all your information is safe while your little one is playing on your phone. But the feature I like the most is the ability to lower the radiation from the phone caused by mobile networks, Wi-Fi, and Bluetooth.
The last one on my list is Net Nanny for Android. Its main disadvantage is that it requires you to pay for using it after two weeks; but it is definitely worth the asking price as it combines the ability to block apps manually and includes its own preset filters based on appropriate age groups. It also forces the user to run the Net Nanny Browser for surfing the Internet, so that the inbuilt filters will work. Even though you have to pay for this application eventually, it should be worth it in the long run, as it helps you protect your child from age inappropriate websites and apps.
To sum up, I think that these applications are best used when you have very young kids; and if you want to protect your child when they grow up, establish a friendly and trustful relationship with them. This way you won't need any of these apps at all.
Picture credit: Google play