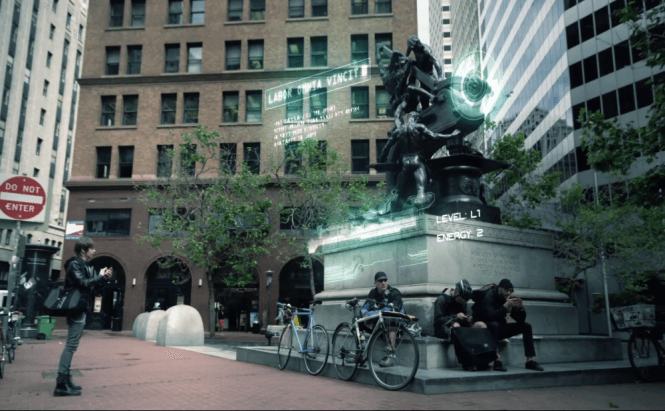 Augmented Reality: techno-sorcery at play
Imagine this common situation: your buddy is glued to a computer screen or his mobile device and looks so focused on his gaming that all the charm in the world can't make him look away. Sounds familiar? And if so, what are you to do, complaining on forums and throwing temper tantrums aside? Well, maybe we could somehow free our game addicts from couches and push them into the real world by fighting fire with fire; I mean, we could try to replace their two conflicting realities with a single, augmented one.
What is Augmented Reality?
Augmented Reality is a relatively new technology that provides a way to combine the real world with overlaid computer-generated data. Put simply, you look at the real world through your camera, and the system draws virtual images on real-life footage in real time. The main goal of this system is to introduce and additional layer of interactivity between users and real-life objects, allowing them to interact with reality in a virtualized environment. No wonder that Augmented Reality technology has made a substantial contribution to a number of social areas such as military, medicine, art and entertainment as, for example, various surgery simulators or the heads-up and head-mounted displays widely used in military operations and trainings, and so on. However, as you may have guessed, it's actually the gaming industry that is hightailing toward making use of AR. Let's get down to the products and see if it has embraced the technology properly.
Google's Niantic Project
Actually, you may have already heard of this project under the name of Ingress, as it's almost become a household word. This is an alternate-reality game launched by Google, with the search giant growing more and more ubiquitous day by day. Briefly, this role-playing game requires you to join one of the two teams: "The Enlightened" or "The Resistance". Then your task is to walk around your own town or city looking for virtual clues (using your mobile phone) to reveal the purpose of "a mysterious energy" that has been recently unearthed in Europe.
Google's Niantic Project: Ingress
For me, the whole premise sounds absolutely incredible: just think, for instance, of its key component - outdoor physical activity. It seems like the game ushers its players into the real world, making them look at their usual surroundings in a different way. Moreover, the team-like spirit of Ingress adds up to a more adventurous experience: not only you will probably feel yourself in the center of a blockbuster, but also find a couple of new friends along your daily commute.
Moreover, the team-like spirit of Ingress adds up to a more adventurous experience: not only you will probably feel yourself in the center of a blockbuster, but also find a couple of new friends along your daily commute.
Sharky the Beaver
Here's another recent augmented-reality application. Curiously, Sharky the Beaver is the first AR character created by Orbotix for their line of small robotic spheres called Spheros. At it's core, Sphero is a ball with an internal motor that you can control using a Bluetooth-enabled tablet or smartphone. The application that you install on your tablet or smartphone, in its turn, transforms Sphero on your device's screen into a walking 3D character. To see the Beaver himself, you need to keep the sphere in sight of your device's camera and look at it on the screen.
Maybe it's not as thrilling as Google's worldwide project, but it still has chances to become something of a craze. Maybe it will grow into a party game or something even more fascinating: for instance, it could pretty well be used to put up fights or races of beavers, where users will compete against others' Spheros, with betting, underground events, fanclubs, and other attributes of a full-grown sport.
The Hobbit AR App
And the last course is a special treat for devoted fans of the inimitable works of Tolkien, and especially the recent movies based on those works. Although The Hobbit: An Unexpected Journey (the movie) will only be out on the 13th of December, you already have a chance to get involved in the Hobbit clique and sport a clump of dwarf facial hair. All you need is load the web app from here and when the app has loaded, allow it to access your webcam.
The Hobbit: An Unexpected Journey
Actually, there's nothing special or anything extraordinary about this app, it's made just for fun; but when you take it for what it is, an advertising trick, it is quite impressive. To some degree, it allows you to get into the role of one of the characters from the fantasy universe, seeing yourself as a 3D model of a dwarf or a hobbit; but more importantly, it allows you to feel yourself part of that universe - and grow more interested in it as a result. If your curiosity is piqued, have a go and look at the app with your own eyes.