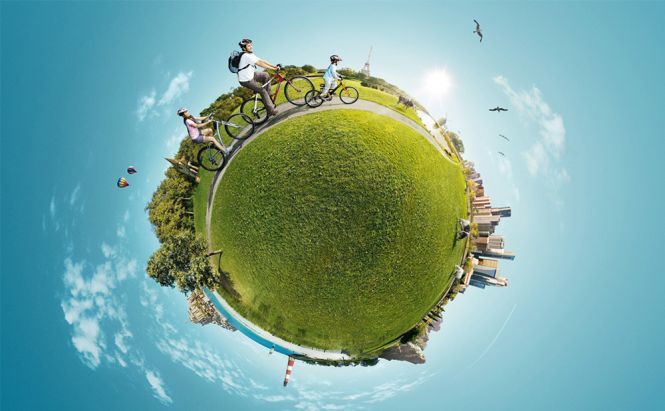 Best Free Photo Stitching Software
Want to create a panoramic photo, but don't have a wide-angle lens? That's not a problem with one of photo stitching utilities that will allow you to combine several pictures together to form a sweeping one. The following free photo stitchers will help your turn your digital photos into stunning landscape panoramas without requiring professional photo editing skills.
Microsoft Image Composite Editor
Microsoft Image Composite Editor
Microsoft Image Composite Editor is a free and quite feature-rich panorama image stitcher for Windows. Although being rather advanced, the software happens to be very easy to use. To create a panorama, you just need to select the photos, drag and drop them onto the program and it will automatically stitch them for you. The editor supports different types of camera motion which include one rotating motion and three types of planar motion. All these effects will give your panorama a different look. The utility will also automatically crop the image for you or, if you're not satisfied with the result, let you crop it manually. The results can be exported to JPG, BMP, TIFF, PNG, or HD file types.
Hugin
Hugin
Hugin is a free open-source image stitching tool that offers a whole lot of advanced features. Unlike the previous image editor, Hugin allows you to choose whether you want 'control points' between two images to be created automatically or enter them manually. Hugin offers several projection types, including rectilinear (flat images), cylindrical and equirectilinear ones. Hugin's other advanced features include photometric correction and HDR merging. Although not as easy to use as Microsoft Image Composite Editor, Hugin provides more powerful control over the stitching process. The program is cross-platform and available for Windows, Mac OS X, and Linux.
Autostitch
Autostitch
As its name probably hints at, Autostitch is a photo editor that can automatically match pictures together. Just like Microsoft Image Composite Editor, the program requires no effort from the user when stitching photos. You only choose the images and Autostitch will get the job done. The utility will also adjust lighting and blending, so you will get a resulted enhanced photo without doing anything. Although if your panorama turns out to have black edges, you might need to crop it manually. The program is available for Windows, Mac, as well as for Android and iOS.