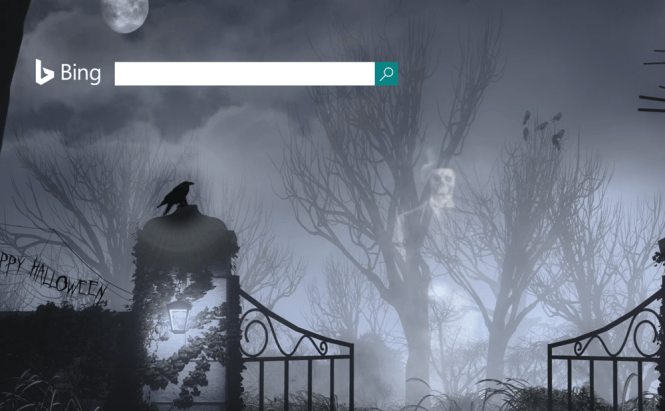 Bing and Google get ready for Halloween
I hope you have your costume ready because the scariest night of the year, Halloween, is finally here. Of course the IT giants couldn't ignore this event, so after Facebook added spooky filters for its live videos and changed its Reactions, Google and Microsoft have now joined the fold. Both companies equipped their search engines with Halloween-related content: Google came up with a ghost killing game, while Bing added a really eerie video to its home page.
Bing was the first to gear up for Halloween, so we will begin with it. Yesterday, the search engine introduced a spooky animation with ghosts, bats and scary sound effects. Unfortunately, the Halloween atmosphere is only available in eight countries: U.S., U.K., Brazil, Germany, China, Australia, Canada and France. However, if you really want to see it, all you have to do is open Bing's settings, make sure that your "Videos and panoramas" are configured to "Play Automatically", then click on the "Change country or region" button and select one of the previously mentioned countries.
On the other hand, Google isn't quite as eerie, but it's a bit more fun and interactive. The search engine's homepage, features a cute game in which you play as a black cat that needs to get rid of its ghost problem. Just use your mouse to draw the symbol that you see over each ghost's head in order to kill it. Trust me, it's a great way to procrastinate.
You might also enjoy reading "Top 10 Survival Games" or "Halloween therapy: 5 epic horror games for Android".