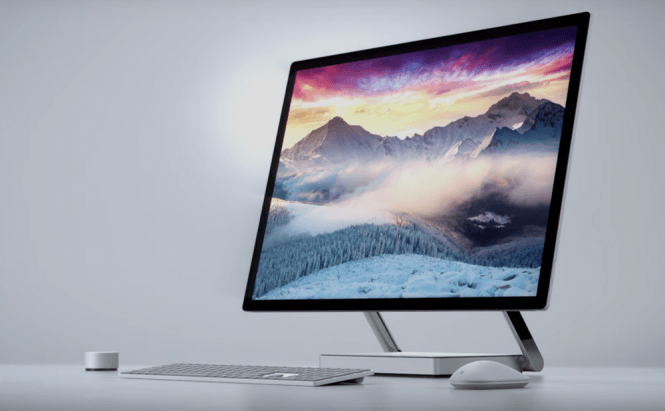 Check out Microsoft's newly unveiled Surface Studio
One of the most interesting announcements made at Microsoft's press event from yesterday was the all-in-one desktop Surface Studio. The device features an ultra-thin (12.5mm) 28-inch screen with a 4.5K resolution while the hardware components are all held in the base of the screen. The support that connects the base to the screen can hold the display in a vertical position just like a traditional desktop or let it slide all the way down to a 20-degree angle in a drafting position.
Surface Studio
Customers have multiple choice regarding the hardware. The basic version of Surface Studio comes with an Intel Core i5 CPU, 8 GB of RAM, 1 TB of storage space and an NVIDIA GeForce GTX965M GPU with 2 GB of VRAM GTX965M GPU. If you're looking for the absolute best, the device can go up to a 6th generation Intel Core i7 processor, 32 GB of RAM, 2TB of storage space and an NVIDIA GeForce GTX980M GPU with 4 GB of VRAM. To be honest, Microsoft could have worked better with the graphic cards, but other than that the Surface Studio looks great both outside and inside. Unfortunately, if you were looking to buy this all-in-one desktop, you should know that the depending on the hardware choice that you make, the price ranges between $2,999 and $4,199, plus an extra $100 as most customers will also want a Surface Dial.
Since this is a direct attack on Apple's 5K Retina iMac, I'm very curious to see how the Cupertino-based company will answer at today's press event.