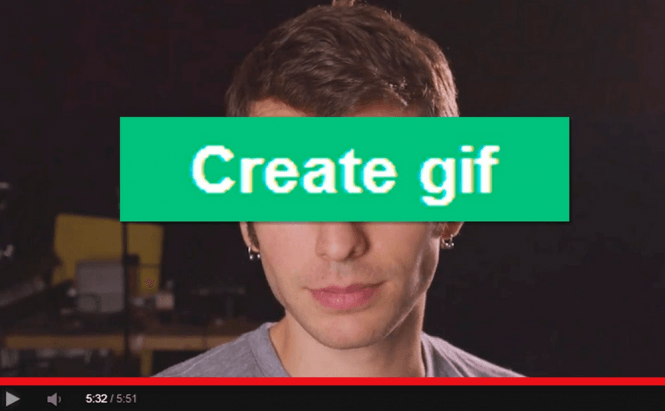 How to make animated GIFs from YouTube videos
As I'm sure you already know, GIFs make the Internet world (and even the MMS world) go round. There are millions of GIFs out there, and some of them are actually really funny and interesting, but there's still some great content that hasn't yet been turned into animated images. Let's say that one of the videos you see on YouTube has a few seconds that are very funny. Wouldn't it be easier if you were able to make a GIF out of that instead of sharing the entire video and telling the other person the time frame when the fun stuff happens? Well, you actually can do that, it's much easier than you would imagine, and it doesn't cost anything. Here are the two easiest methods to make a GIF from a YouTube video:
Using YouTube's embedded tool
YouTube's GIF feature
I won't fault you if you didn't know this (I didn't know it either, despite the fact that I spend hundreds of hours on the website), but YouTube lets you create GIFs directly in the website's interface. Unfortunately, this feature isn't available for all the shared content, so there are many times when it won't work. If the video you're watching on YouTube can be turned into an animated image you should see a GIF button in the Share menu, like in the image. (To be perfectly honest, I've been actively looking for YouTube videos that can be directly turned into GIFs, and I wouldn't have found any had I not known exactly what to search for.)
If the video that you're watching can be turned into a GIF, you have a few options that make things a lot simpler. You can choose the start time and the end time of the looping sequence either by typing them or by dragging the cursor on the bar that appears right under the sharing menu. While the slider makes it much easier to find the perfect time frame, changing the duration of the GIF can be done much more comfortably by manually typing in either the Start at or the End at values. What's really cool is that you can also insert capitations (texts) on the top and bottom of the GIF so that you can make the joke or point even more evident. What I didn't like about this method is that the GIF can't be longer than six seconds. When you're finished, press the Create GIF button, and you'll be given a URL link to it as well as the code that will let you embed the animation into your website / blog.
Using the GIFYT online service
GIFYT service
Another very simple solution to make GIFs from YouTube videos is to use a free online service called GIFYT. This will work with absolutely any video, lets you create animations longer than 6 seconds and gives you more options for customizing your capitations, so I think it's better than the first one. Here's how to use it:
Open the YouTube video that you want to change into a GIF, then modify its URL address by adding GIF right before the YouTube part. (It should look like this "www.gifyoutube.com/watch...".) Then press Enter, and you will be redirected to a new page where you can create the GIF that you want. Simply choose a start time, then enter the desired duration. Additionally, you can use the Add caption to insert texts into your animation (you can choose their font, color, position, and display time) and give your creation a title using the big text box right above the video.
When you're done, click the large green Create GIF button near the bottom of the page, and you will be taken to a different URL that contains your animation. In the bottom left corner of the GIF you've created there is a small button which lets you instantly share your creation on Twitter, Instagram, Reddit, Dribble or a custom website of your choosing. You can also save the animation as an anonymous creator and simply share the link with your friends. (In case you want to see it, here is the GIF that I created as an example.)
Now that you've seen the easiest ways of making GIF animations from YouTube videos, you might also want to find out what are the best free GIF capturing tools for Android or read about some other great online GIF creators.