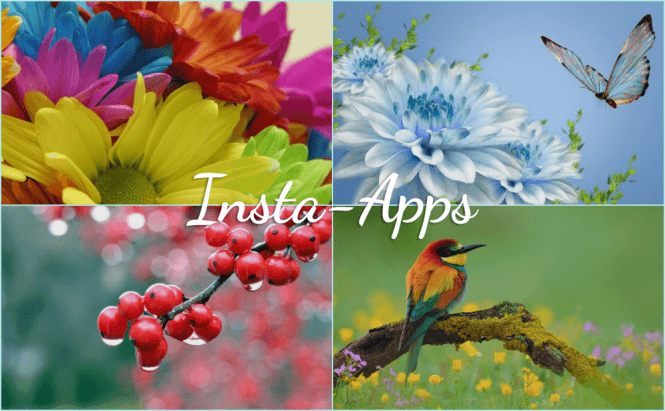 Insta-this, Insta-that: These Android Apps Do It All
Instagram-mania is a world's disease of the XXI century. Furthermore, it's not enough for Instagram users to check their photo-feed every hour or so, they hunger for transforming and filtering their pics and videos in between uploading them. Of course, everyone chooses suitable apps based on own preference as different strokes for different folks, but I've tried to test the most common apps that could suit both beginners and wise in experience Insta-addicted users to diverse their everyday Insta-life.
Filters + Background + Collages
InstaBox
InstaBox is a universal program which is developed to turn your ordinary everyday life fragments into fresh and unusual pieces of art. First of all, the app makes your photos suitable for Instagram size requirement (so you don't have to use a separate app like InstaSize).
The standard options like zoom, rotation or filters become intertwined with extra features like backgrounds (presented in unusual warm colors, nice traceries and thematic templates) or text integration (with a possibility to choose among fonts, colors of fonts and backgrounds).
Furthermore, with InstaBox, you can create collages and edit inner, outer or corner sizes. Otherwise, use a mirror effect and beautiful stickers. In the third section, try the feature of pics shapes (like heart or circle). Save your work and share it via a long list of famous sources like Facebook, Whatsapp, Skype, etc.
Snapseed
Here, in Snapseed, just open a picture and enjoy the easily presented menu. Use common options like cropping, rotation, image tuning; and additional ones like vignette, brush or spot repair. Then, try every filter (e.g. vintage, HDR Scape, lens blur) to find the one that suits you mostly. Don't forget to add frames.
Lipix - Photo Collage & Editor
Most of all I like this program because it gives nice frames and backgrounds. It can also easily create collages and add stickers or make your picture look round, for example. If you need to add a text, it is as easy as tapping the Aa button.
Repost + Download + Follow
Repost for Instagram
If you are using Instagram and have always been curious about how he/she adds other person's post on his/her page, here how it works. You need to download Repost for Instagram (which is quite logical) and log in with your Instagram account. Be sure not to enter unnecessary space (like I did). Choose the post, then make the author sign be white or black and change its placement. Add filters, crop if needed and share the post that is valuable for you.
Insta Download - Video & Photo
I'm so proud to finally cope with this app! I am using Instagram, but have always been too lazy to spend some time and find out how it works. Well, here is the instruction: download the app Insta Download - Video & Photo→ enter a picture URL (in Instagram choose Copy Share URL below) → save image (or video) →repost.
InstaFollow
Who follows you? Find out how many gained followers, lost followers and non-followers (publics usually) visit your page. This app statistics will show even how many mutual friends you have, who haven't left any comment during all the time, and who are your real fans. The only thing I don't like is extra ads.
When You Have Some Spare Time
Video Collage...
… is the easiest app to create video collages. There are different templates to select from. The app Video Collage has a few options and too many ads, but it is the only one from my list, that did its stuff and I finally got the result from. You can also add an audio track to the footage and cut it. Share the result in Instagram, Facebook, Telegram, Whatsapp, Google+, Skype, Vk or Gmail.
Insta Face Swap
I think everyone has probably heard about the app Insta Face Swap as it is widely advertised. The app is really cool and lets you swap, rotate and flip the selected piece in the picture. A lot of ads might distract you, but the final result is worth to be seen. Swap your friends' faces easily, share the result and have fun!
My Insta Food
The usual Instagram is actually a place for a huge part of food pics. But My Insta Food lets you diversify your filtered image and offers you to rate this or that dish (its taste&price) or restaurant, name the dish, add your location and invite your friends there. The app is synchronized with your Facebook account, so if you don't have one, think twice before acquiring the app.