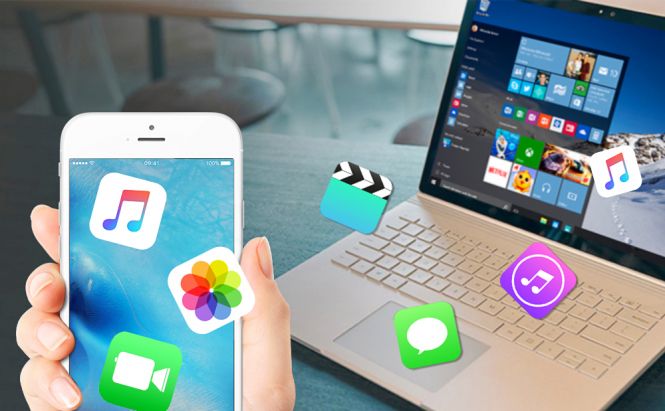 A simple, fast way to transfer files between iPhone and PC
It's not funny to spend hours on transferring files, from your iPhone to PC, or the other way around. In fact, for most of us, it is not a problem of time, but the absence of a workable solution. But when we're baffled by the complicated operations of syncing iPhone files with iTunes; daunted by the price of cloud service, the file transfer tools sprung up like mushrooms start to attract people's attention. Based on advanced technologies, these tools have made breakthroughs on the transferring speed and quality, so gradually became the most popular way for people to transfer and manage their iPhone files.
WinX MediaTrans, which specializes in transferring big files between iOS devices and Windows computer, is among those most functional file transferring tools. Many people who are keen to the imminent iOS 10 update in September, has noticed its potential to free up iPhone space (for a smooth upgrade process) and use it to transfer their HD videos, 4K photos and music collection from iPhone to PC at the highest speed with no quality loss, so in this article I introduce you some of the most important features of WinX MediaTrans for your references.
Export Photos by Date/Month/Year
Your iPhone must be full of photos at the end of a trip. To get enough space for next journey, we need to export those photos to free up iPhone storage. It's a good idea to transfer those pictures to your computer hard disk since the latter is free and usually has enough space. In most cases, what we want is to transfer only part of our iPhone photos, not all of them, and this is exactly where WinX MediaTrans can display its skill to the full. In the following image you will find all of photos on the device are divided into groups by their creation date, of course, you can also get pictures grouped by month or year through selecting the way you need on the top right of the interface. WinX MediaTrans helps you to freely transfer your photos (for example, those taken during some summer vacation or at a birthday party) from iPhone to PC.
Flexibly Manage iPhone Music
WinX MediaTrans also serves as a good way to manage your iPhone music flexibly on PC screen. Try to add a new playlist or delete one you don't need any more, or modify the artist/album name of a song, you'll find the experience on managing iPhone music brought by this powerful iPhone manager is just not the same thing as editing music playlists on an iPhone screen. By presenting almost all the music details including quality, format, size, duration, issuing year, etc., WinX MediaTrans makes you the real controller of your iPhone music.
Convert Any Videos to iOS Devices
Many mainstream video formats like MKV, FLV, MOV, AVI are not compatible with iOS devices, so WinX MediaTrans, a 2-in-1 video transfer and converter, not only helps to transfer your HD videos between iPhone and computer at the fastest speed, but also converts them to MP4 for your worry-free playback on any iOS devices like iPhone, iPad, iPod, etc. so you don't need a third-party video converting tool to do this job. The converting process is as rapid as that of transferring. Convert videos in batch is also allowed.
Transfer media Quickly with Only Three Clicks
As we have mentioned above, WinX MediaTrans is both simple and fast enough to transfer media files between iPhone and PC. How fast? Based on advanced technologies like Intel QSV & Nvidia NVENC hardware acceleration, this file transfer enables you to export hundreds of iPhone photos in 10 seconds, transfer HD videos and HQ music collection between iOS devices and PC in minutes. How simple? With the user-friendly interface, even the green hands on transferring files can finish the works above each within three clicks. You'll never find complicated technical terms or ambiguous options in WinX MediaTrans. It ensures you the best-ever experience on transferring media files between iPhone and PC.
Export iPhone photos to computer by going "Photo Transfer" > "Export"
Import videos to iPhone by going "Video" > "home video" > "Sync"
Transfer music from iOS device to PC by going "Music Manager" > "Export"
Now Grab the best file transfer & iPhone manager to transfer photos, music, videos between iPhone, iPad and computer; back up files and free up iPhone space to get ready for the iOS upgrade in September.
And it's the best time to own WinX MediaTrans since its manufacturer Digiarty is running a giveaway of this powerful iPhone file transfer& manager tool. Anyone who goes to the giveaway page can get a licensed copy of it by clicking "Get Giveaway Key" for absolutely free!
Visit the official website of the program: www.winxdvd.com/mediatrans/
Also, read my colleague's article about Best tools to perform iOS → PC data transfer.