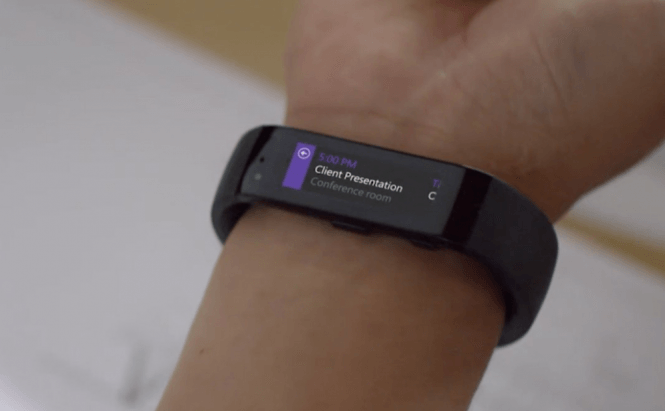 Microsoft Unveils a $200 Smartwatch
Yesterday, Microsoft unveiled its new smartwatch called Band. The wearable, priced at $200, is strongly focused on health and fitness apps while also retaining the major features of regular smartwatches such as access to your emails, messages, Facebook posts and tweets.
If you can get past its aspect (to be totally honest, the device kind of looks like a hospital bracelet), Band is actually one of the coolest smartwatches on the market. The wearable embeds technology called Intelligence Engine, which is basically Cortana's spy. It works like this: the smartwatch monitors you when you're on the move as well as when you're at rest, collects the data, and throughout time observes patterns. Then the Intelligence Engine will tell Cortana to advise you on various topics such as how long your break should be or to suggest personalized work plans in case you want to lose a specific amount of weigh. If you want to, you can store the collected information in the HealthVault and share it with your doctors.
Band embeds a wide variety of tools such as a heart rate monitor, or UV, skin temperature, ambient light, galvanic skin, and capacitive sensors. The device shows you the data with the help of a TFT display measuring 320 x 106 mm and transmits the information it gathers to your phone via Bluetooth. What's really cool (and a little unexpected) is that the wearable doesn't only work with Windows Phones, but it is also compatible with iOS devices (iOS 7.1 or newer) and Android gadgets (Android 4.1 or newer).
Lastly, Band includes a GPS, Bluetooth and a microphone so that you can issue vocal commands. On the downside, the watch is not waterproof but can still repel "splashes" (whatever that means), it only works between 14 and 104 degrees (-10 up to 40 Celsius) so make sure you don't stay in the sun too long when it's really hot out, and it doesn't have any speakers, so Cortana will be forced to write messages on your screen instead of talking to you.