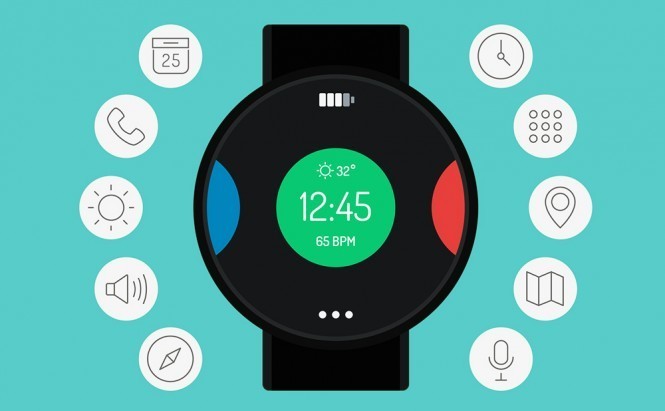 Smartwatches: a Functionality of the Smartphone on Your Wrist
Nowadays we are witnessing the tendency of turning our wearables into devices and gadgets. No doubt that one of the most popular accessories are watches, so why won't we make them as functional as possible? News of the recent months bristle with announcements of smartwatches from the leading mobile platform developers. So let's have a brief look at the upcoming wrist gadgets that will take part in this new wave of companies' racing.
Android Wear
To understand the main idea of the smartwatch concept, it is enough to watch the short official promo video below. According to it, all the watches based on Android Wear OS aim to ease our daily life and to alleviate our addiction to smartphones. New generation of wrist devices will solve the annoying pet peeve with missing notifications. Just say 'OK Google' to get things done. Less effort will be needed to access all the necessary information, but no more: you won't be able to play games or dully surf Internet pages. However, brevity is the soul of wit, isn't it?
Motorola Moto 360
This smartwatch with circular face is definitely stealing the show today. When Android menus are inactive, Moto 360 looks like a solid black analog watch. In this mode its OLED display can drastically reduce the energy consuming thus extending the battery lifetime without recharging. Additionally, the orientation-free UI is designed to allow you to wear the watch on the left or right arm with the same comfort. Another feature worth attention is the way of charging the device. You won't need to untangle USB cables anymore: it was announced that the smartwatch charges wirelessly via magnetic induction. There is no official release date announced, however, we can expect it to be put on sale in July for about $250.
Moto 360 by Motorola
LG G-Watch
Despite the same functions and OS, LG's latest piece of handy-work doesn't appear to be so rumored as Moto 360, probably through a rather standard appearance. Being water- and dust-resistant, G-watch will be released in a minimal sleek design with a metal casing. As for the main specs, the device will be provided with a 1.65-inch display, 4GB of internal memory and will be available in stealth black and champagne gold colors; the battery lifetime is expected to be about three days. G-watch will enable you to operate your smartphone's camera, chat with others via Hangouts, make calls or send messages. There will be also a 'Zen' mode available that will turn off all the annoying notifications. According to the Telegraph (UK), G-Watch will go on sale in July and the price is expected to be around $199.
LG G-Watch
Samsung and HTC: Future Plans
Samsung's first Android-based smartwatch, the Galaxy Gear, met a rather rough reception at the end of last year. Now two giants, Samsung and HTC, jump on board together with LG and Motorola, to implement the newborn Android Wear OS to their products, which probably will be called Galaxy Wear and One Wear, accordingly. Both watches are expected to be round-shaped. In case of Samsung, a strong resemblance to Moto 360 catches the eye after looking at the picture from the patent, so it is quite interesting to wait for further developments. Speaking about the functionality, Samsung is going to launch a device with complete touch and gesture UI. As for the HTC plans, there are yet no pictures on the web; what's known is that most likely the company will deliver its product in two types of cases: metal and polycarbonate.
A draft of the future Galaxy Wear by Samsung
Apple & Microsoft
The rivalry is expected to start not only between Android-based watches. Other operating systems, obviously those by Apple and Microsoft, also are planning to enter the battle. The patent of the future Microsoft wristwatch is already on the Web, according to which it would serve mainly as a fitness tracker but able to act as a phone, music player, and messaging device, running on a version of Windows 8. The band, probably, will be removable and four colors will be available; the body itself will be made of oxynitride aluminium. There seems to be nothing special about it; however, it is noteworthy that the device won't just tie in with Windows devices but also will be compatible with iOS and Android.
A draft of the future smartwatch by Microsoft
The ideas of Apple are shrouded in mystery, so the only thing to do now is to rejoice at any emerging concepts. Some say there will be men's and women's variants, others predict it as a metal bracelet with huge display; or maybe the watch will inherit the idea of iPhones 5s and 5c, by coming also in a lower cost plastic multi-colored versions. Apart from that, there are plenty of versions about the ways the future smartwatch will be charged. The interesting variants are: using the magnetic induction as Moto 360, the kinetic way of charging or even by consuming solar energy!
iWatch concept by Mark Bell
Obviously, this summer promises to gladden us with a wave of novelties. There remains only one question: do we really need these devices? Today we have smartphones, tablets, players, and activity trackers which already can do everything and even more. Soon we will see how the world will react on another offer, but now have a look at the video below. Of course, its idea is overblown, but somehow these guys are right.