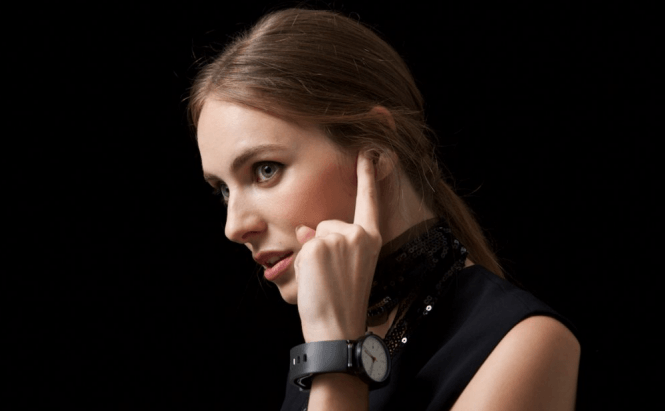 Use your finger to answer a phone call
Many of you may think that the title sounds somehow redundant as you already use your fingers to press or tap the answer button on your phone, but I am actually more literal than that. A Kickstarter project named Sgnl aims to allow its users to have phone conversations simply by placing their fingertips on their ears, without ever touching the phones. The prototype had a $50,000 goal, but managed to gather $1,469,202 in funds. Here's all you need to know about it:
How does it work?
Sgnl is actually a wrist strap that connects to your phone via Bluetooth. The sound gets carried through your finger (using vibrations), so when you place your fingertip on your ear, you will hear what the other person is saying and the wrist strap has an embedded microphone that allows the other party to hear what you are saying. To be honest, I didn't have the chance to actually test the device myself, but the documentation for the sound quality and signal quality looks quite impressive, so that shouldn't be a problem. Sgnl pairs to your handset via an app, which works on both Android (4.4 or newer) and iOS (8 or newer). The battery embedded in the strap lasts up to 4 hours of talk-time or 7 days in stand-by until it needs to be recharged.
Do I need to buy a smartwatch?
Sgnl watch compatibility
Actually, you don't. According to its creators Sgnl works with Apple Watch, Samsung Gear, Pebble Time and even regular watches as long as it can fit a strap that measures between 18 and 24 mm. Furthermore, if you don't like watches, you can even wear Sgnl as a wristband.
Why would I use Sgnl?
There are a lot of advantages of using Sgnl. Firstly, when you're in a noisy room, you would put your finger on your ear anyway to try to hear what the other person is saying and with this device, that's already taken care of. Secondly, if you generally use hands-free devices, you no longer have to worry about losing your ear buds. Thirdly, the police can't actually stop you for having a finger on your ear while you're driving. Lastly, the Sgnl app adds extra functionality such as call reminders, activity tracking features (the wristband embeds a pedometer) and smart alerts that use different vibration patterns for texts, calls and app notifications.
How much does it cost?
The device is available for preorders now and is estimated to arrive in February 2017. The pack that includes Sgnl as well as a Dummy Band, a Remover tool, connection parts and a micro USB cable costs $149. If you're interested in finding out more details or purchasing the device, you should head over to the Sgnl's Indiegogo page.
In case you're interested in reading more about awesome devices, you should check out some of our older stories like: "HP releases a concept picture for the Omen X VR PC backpack", "The most interesting Kickstarter projects to arrive in 2016" or "Top 7 accessories for your iPad".