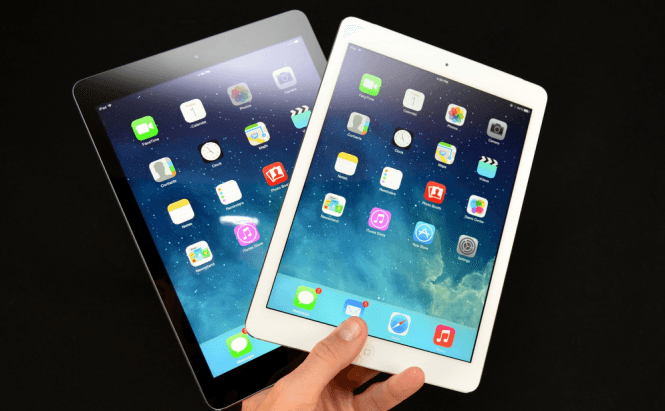 Top 7 accessories for your iPad
Although I'm not a big fan of Apple, I must admit that they make some pretty awesome devices and everyone who owns an iPad, iPhone or Mac can confirm this. Even though iPad is great on its own, there are still ways in which you can improve its functionality. This is why I've decided to show you my favorite 7 accessories that you can use in conjunction with your iPad. These gadgets will allow you to get the most out of your device or add a lot to its range of capabilities.
BrydgeAir Keyboard
BrydgeAir Keyboard
I've always preferred a physical keyboard instead of an on-screen one, and I'm pretty sure that I'm not the only one. As far as I'm concerned, the BrydgeAir Keyboard is one of the best products in its class that you can find. The keyboard is made out of aluminum, features an 180-degree hinge and there is plenty of space between the keys to feel comfortable when using it. Another nice touch is the back-lighting which makes it easy to use in darker environments. BrydgeAir Keyboard costs $130 or more, charges via microUSB and can run for over a month on a single charge.
Twelve South HoverBar 3
Twelve South HoverBar 3
One of the biggest problems for iPads and tables in general is that there aren't exactly made to be hands-free devices. Twelve South HoverBar 3 is a really cool gadget that you can attach to other surfaces (including your bed), then place the iPad in any position that you require. What I really liked is the fact that you can easily attach the support to your Mac's monitor and comfortably use the iPad as a second screen. If you're interested in acquiring it, the prices for Twelve South HoverBar 3 start at $99.
SteelSeries Nimbus Gaming Controller
SteelSeries Nimbus Gaming Controller
Today's technological advancements allow app developers to create some impressive games for the iOS platform. Unfortunately, playing on your iPad isn't always the most gratifying experience, but a device like SteelSeries Nimbus Gaming Controller can change that. The gadget works with iPad 4 or later, iPhone 5 or later as well as Apple TVs. As far as advantages go, the controller is quite comfortable, connects to your iPad via Bluetooth and recharges its battery via lighting cable. The SteelSeries Nimbus Gaming Controller will cost you $50 or more, depending on where you purchase it from.
Speck iGuy Case and Stand
Speck iGuy Case and Stand
In case you're using your iPad as a distraction for your kid, then you really should take a look at this product called Speck iGuy Case and Stand. The case is made from EVA foam, so it's resistant to bumps and drops (just don't take a hammer to test it out). As you've probably guessed from its name, the product can hold an iPad in a standing position, so it's great for watching cartoons. The prices for Speck iGuy Case and Stand range between $30 and $40.
SanDisk Connect Wireless Media Drive
SanDisk Connect Wireless Media Drive
I'm not sure if you've ever wanted to do this, but extending your iPads storage capacity using additional Apple products can be incredibly expensive. From my experience, using SanDisk Connect Wireless Media Drive is a far better solution, as the device isn't only affordable but also multi-functional. The original size of this external hard disk is pretty small (32 GB only), but it allows you to extend it via SD cards (that are very cheap nowadays). The product also embeds WiFi capabilities, so you can easily pair it with your iPad, no matter where you are. SanDisk Connect Wireless Media Drive costs somewhere around $54.
Philips Hue Connected Bulb
Philips Hue Connected Bulb
I realize that there are many smart home devices that have iOS remote control capabilities, but Philips Hue Connected Bulb is the one that I like the most. This gadget can be controlled from your iPad and you can set different intensity levels and colors for each light you have installed. Furthermore, you can also find third-party apps like IFFT, which can help you automate all of the lightbulb's functionality. In case you're interested, the Phillips Hue Connected Bulb costs somewhere between $170 and $200.
Apple TV
Apple TV
I suppose, this is the least surprising entry on the list, but I had to mention it especially since cord cutting is a big trend these days. The Apple TV is a great partner for your iPad for two reasons: firstly, there's a cool app called AirPlay, which allows you to mirror everything on your device screen to the Apple TV, and secondly, because you can use the iPad as a remote for the TV box. Moreover, the Apple TV box is very small, thus being incredibly easy to carry along with your iPad.
If you're interested in all kinds of cool gadgets, you might want also to check out the top 5 fantastic inventions of 2015 or see the coolest technology that you've never heard about.