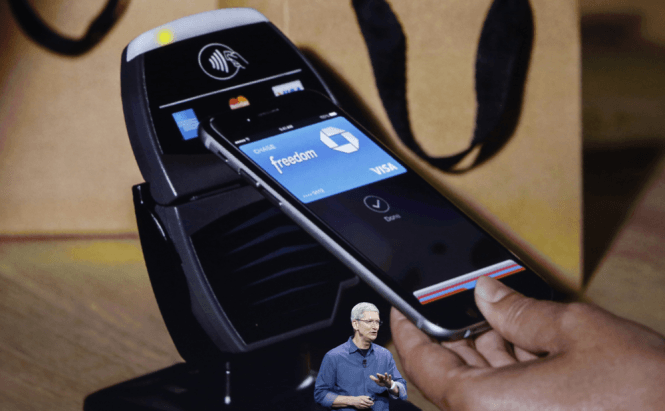 Apple Pay - Crash Course
Recently launched, Apple Pay is already considered the next big thing. And why shouldn't it be? The transaction system has all the makings to be something great and might actually end up completely replacing the traditional cash or plastic payments. If the adoption rate will be high enough, you will no longer have to carry your wallet with you when you're going shopping, unless you need your driver's license or ID card.
What is it and how does it work?
As I previously stated, Apple Pay is a payment system which can be used for on-line transactions as well as for real-life shopping. All you need to do is to insert your debit / credit card information in your phone (in case iTunes already has your card info you can use that one) and you will be able to pay directly from your phone. When it comes to online shopping that's nothing new, but the fact that you can now walk into certain stores, touch a terminal with your phone and pay for the products that you have bought is actually quite exciting.
In case you need more details, the process goes something like this: the new Apple phones encase a chip that uses NFC (Near-Field Communication) technology. When in the immediate proximity of a NFC receiver the chip can transmit data and thus confirm your transactions. All you have to do is choose the card that you want to use (in case you have more than one), tap the screen to confirm the purchase, and the phone takes care of everything else.
What are the restrictions?
Unfortunately, at the moment, there are a lot of restrictions to Apple Pay usage. Firstly, the service is available only in the US, so if you don't live in the United States all you can do is hope that the system catches on and reaches your country. Secondly, there are very few devices which feature the required NFC chip: iPhone 6 and iPhone 6 Plus are the only two gadgets that will allow you to use Apple Pay in real life stores. Furthermore, the system is dependent on the Touch ID function so if your device doesn't support iOS 8.1 you won't even be able to use it even for online purchases. The good news is that the upcoming Apple Watch will also embed a NFC chip and so you will be able to use it in conjunction with iPhone 5S to buy stuff. Apple Pay also works on iPad Air 2, but only for online shopping.
The last restriction is related to the stores and companies which decided to accept this payment system. Just like you can't pay with plastic if the vendor doesn't have a card reader, you won't be able to use Apple Pay if the location doesn't have an NFC terminal. Since Apple project is still very new, there are very few places which allow their customers to use it. You can find a complete list with all the locations where you can utilize Apple Pay in the final part of the article.
How do I set it up?
Passbook app
The first thing that you need to do is to add a card using the Passbook application, but fortunately, that is very easy. In the app's screen tap on the plus (+) icon, select the type of card you have (credit or debit), then press the camera icon and take a photo of your card. The app is designed to automatically recognize the name, card number and expiry date, but if it doesn't you can also manually introduce them. Furthermore, you will also need to manually type the card's security code. Lastly, you will have to agree to terms of services and (in most cases) verify the card with respective bank (generally either through the bank's app or through a phone call). Once you've finished adding all your cards, the Apple Pay option will become available.and you can simply tap on the card that you wish to use for the transaction.
What about security risks?
It might seem very hard to believe. but I think that Apple Pay is even more secure than card transactions. Let me explain why I'm saying this: the devices that can use the new Apple payment system also embed another chip called SE (secure element). This chip is the part where your financial information is stored and its basically a hardware safe that hackers can't reach. The SE is only utilized when you are performing a transaction and even then it doesn't operate with your card's information, but generates a random sixteen digits combination which is communicated to the retailer whom your are buying from as well as to your bank. This means that no one ever gets to see your credit card number or expiration date. Moreover, the only data which actually reaches your phone is the respective combination that can only be used for the particular purchase that your are currently engaged in. You aren't only safe from hackers, but your privacy is also protected. Cashiers don't get to see your credit card and Apple only saves a record of the amount you spent and the name of the company it was given to (no product information).
Furthermore, as i said before, Apple Pay can't function without Touch ID: this means that no purchases (on-line or real life) can be confirmed without your fingerprint. Lastly, in case you lose your phone or it gets stolen all you have to do is to go to Find My iPhone from any Apple device that you can use, and enable the Lost Mode for your device. Apple will then automatically block your phone to keep strangers away from your private data and put the Apple Pay service on hold until you reclaim your iPhone.
Any Other Issues?
Card related issues - The only small inconvenience may be that you will have to keep the cards details up-to-date. In other words, if your card expired and your bank issues a new one, you will have to update the data on your phone as well. But other than that, you have nothing to worry about. Since the bank is still the one that handles the transactions, you will even keep on earning card reward points.
Phone service issues - Since the financial data is stored in the Security Element you don't need to have a working phone service to perform a transaction. It will work even if your device has no reception or is in Airplane Mode.
Where can Apple Pay be used?
I will divide the list into three major categories: banks that accept Apple Pay transactions, locations that have NFC terminals (businesses that can handle Apple Pay) and apps that offer you the option to play through the new transaction system. Don't forget that this is a list with the places where you can currently use this kind of payment and more Apple Pay partners enroll on a daily basis.
Banks - American Express, Bank of America, Capital One, Chase, Citi and Wells Fargo. Soon to come: Barclaycard, New Federal Credit Union, PNC, USAA, US Bank. (Five hundred more banks from around the world have partnered up with the program and will start accepting Apple Pay next year.)
Companies - Aéropostale, Apple, Babies R Us, BJ's, Bloomingdale's, Champs Sports, Chevron, Duane Reade, Extra Mile, Foot Locker, Footaction, House of Hoops by Foot Locker, Kids Foot Locker, Lady Foot Locker, Macy's, McDonald's, Nike, Office Depot, Panera Bread, Petco, Radioshack, Run by Foot Locker, Six:02, Sports Authority, Subway, Texaco, Toys R Us, Unleashed, Walgreens, Wegmans, Whole Foods Market. Soon to come: Anthropologie, Disney Store, Free People, Petsmart, Sephora, Staples, Urban Outfitters, Walt Disney World.
Apps - AirBnB, Apple, Chairish, Disney Store, Fancy, Groupon, Hotel Tonight, Houzz, Instacart, Lyft, MLB.com, OpenTable, Panera Bread, Spring, Staples, Target, Tickets.com, Uber. Soon to come: Eventbrite, Jack Threads, Levi's Stadium, Sephora, Starbucks, StubHub.