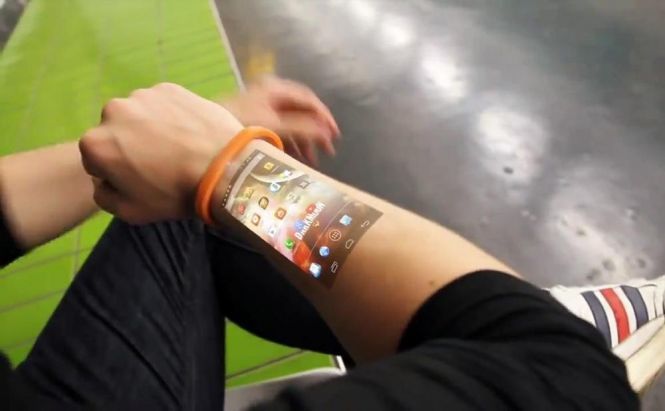 Top 5 fantastic inventions of 2015
Human beings are ingenious and innovative creatures. From the discovery of fire to the development of spaceships and satellite communication, people have come a long way in creativity and science. Trying to facilitate our life even further, the fevered minds yearly bring us something out of the box, and this year is no exception. We've rounded up the 5 new and amazingly smart inventions whose concepts may seem a welcome surprise to you. Take a look at our list and leave your vote for the innovation you'll love the most.
Cicret Smart Bracelet
The age of Terminator seems closer than we think. Although smartphones and tablets are the only mobile devices around nowadays, the Cicret company is planing to leave them far behind by turning your arm into a smart device. First appeared as a viral video sensation last November, Cicret Smart Bracelet resulted in a wearable computer that can project your mobile's touchscreen right onto your arm. Along with the eight proximity sensors that detectfingers position, the bracelet features its own processor, Wi-Fi and Bluetooth connectivity, Micro USB port and a pico projector. It is activated with a twist of the wrist and projects an Android interface on the users' arm, letting them use their smartphone normally, while the device itself sits in a bag.
Scribble
The smartest pen ever!
Scribble represents a revolutionary pen that goes far beyond the ordinary blue and black ink you got used to. Coming with a 16-bit RGB (Red-Green-Blue) color sensor, Scribble scans and captures any color in the entire world, allowing you to reproduce it on paper. You just need to hold the pen's scanner up to any surface, like a wall or fruit, and Scribble will digitally detect and replicate its color. Genius is found in simplicity.
Specially designed for casual artists, the smart pen provides access to the widest color palette and offers a broad range of stroke weights: 0.3mm, 0.5mm, 1.0mm, 1.5mm, 2.5mm and 3.71mm. At the moment, the device is available only for pre-order and retails for $150, while its Stylus version for smartphones and tablets costs only $90.
Foodini
Looks delicious...
While the microwave is a fantastic invention we acquainted ourselves with long ago, the 3D printing technology has stuck in our mind as something fascinating. Foodini is an automated machine that comprises the two notions to create homemade meals with a 3D food printer. Developed by the Natural Machines company, the futuristic gadget is claimed to be ideal for time-consuming dishes like ravioli or variously shaped cookies. Foodini is programmed to simultaneously work with numerous ingredients at multiple speeds, so all what users need to do is select a recipe from the touchscreen or upload their ownvia the Internet-connected machine. The invention is planned to go for sale in the nearest future at about $1000.
StoreDot
Just 30 seconds!
Despite the headway consumer electronics have made, their vulnerable spot still remains the time it takes to charge them. But down not yet out: it seems that the problem of dreadful battery life has a remedy. At CES 2015, the Israeli startup StoreDot revealed a new type of battery that can be fully charged less than in 60 seconds. Compared with the typical lithium-ion technology, StoreDot's FlashBattery consists of organic compounds packed into thousands of individual cells, which significantly boosts charging speeds. The StoreDot battery can withstand up to 2,000 charge/discharge cycles and stores enough energy for a car to travel 300 miles on a 5-minute charge. Since the material of specially synthesized organic molecules is readily available, the cost of FlashBattery should be comparatively low. The official launch of the batteryis expected toward the end of 2016.
Woof Washer 360
What a pleasure!
Woof Washer 360 is the most bizarre invention of this year. As claimed on TV, the gadget will wash your dog in less than a minute. The Woof Washer thing looks like a large hoop with water sprayer holes inside and a built-in shampoo dispenser. You connect all that to a hose, turn on the water, put the hoop on your furry friend and slide it up and down to give him/her a wash. Although the whole idea sounds like a totally absurd, the developers are working to release the product globally. Woof Washer 360 comes in two sizes: small for $20 and large for $25. Are you still skeptical about? Look at those eyes...