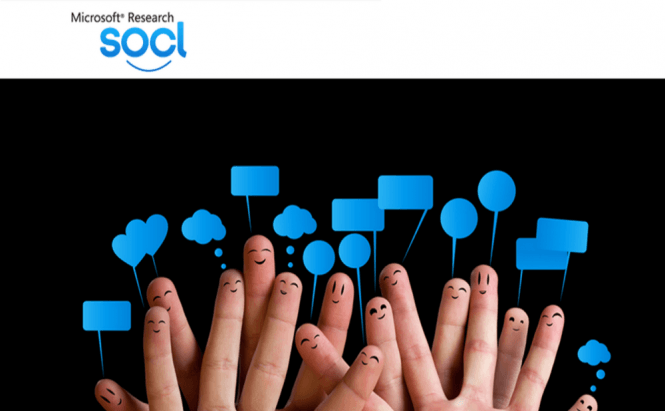 Microsoft's own social network - Socl
Google, Facebook, Twitter, YouTube, and other social media giants have rocked stirred up our life and stuck in our minds so firmly that we can now hardly last a day without using one of these addicting tools. They're in full bloom now. We can strike up a conversation or even a whole new relationship with a click of a button, and we witness new communities and brands rise and fall on the backs of these global social media phenomena. What else could we ask for? Well, if only we could have all these things in one place – that would be nice.
Microsoft has taken a shot at creating something like a mix of a social network and a search engine. Specifically, the tech giant launched its search-based social network Socl (pronounced "social") as something targeted mostly at students, with the intention to let them learn and enlarge their scope; however, at the moment the project looks simply like a service where the users share their ideas and interests with others by means of eye-catching posts created in couple of seconds each.
Socl: Posts
If you haven't given it a go yet, you may want to know how Socl works and what it manages to do. Well, for starters, I'd say that although Socl is meant to be another rival to Facebook, it's far from being one; and that's not least because it can't be put next to other common social networks. The whole idea of Socl, for now, is its collage-styled talking and sharing – and, erm, that's it. Sure, the creative process is made as easy as possible: to create your own catchy, colorful post, you just choose "Create a post", paste a couple of links to some funny web pages (or just use the integrated Bing search to find interesting images, videos, and links on the Web), and then drag the resulting thumbnails into predefined Metro-like collage boxes. Then you just add some notes or tags to your post and share it with others. That's it. That's all you get to do there.
Socl: Interests
Well, to be fair, there's one thing that makes Socl somewhat resemble familiar social networks: other users can like your posts by clicking "this makes me smile" and make visual responses to it, thus creating a "riff", which is simply an extended conversation made up of similar posts among Socl users.
Socl: Users
To my mind, this visual conversation will be a transitory stage on the way to discovering new methods of human interaction. However, on the whole, I can't see any significant innovations in Socl. It just doesn't seem like a next social media headliner. The website, expectedly, is full of all the same things: photos, pictures, photos... We've seen it all.