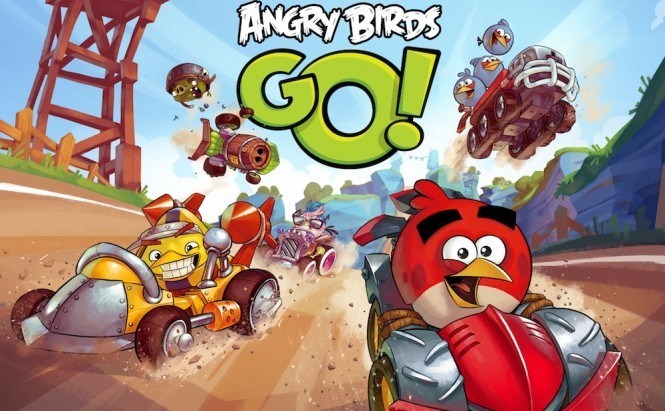 Race The Birds!
What's the first thing that springs to your mind when you think about races? That they're dangerous, risky, and totally uncontrollable? Well, all that might be true actually; especially if you're thinking about mobile racing games. This time, we're in luck: Rovio Mobile have released their new game with birds and pigs for Android and iOS, and it's called "Angry Birds Go!"
The Goal
This new game brings new ways to beat up pigs; but instead of destroying them you're just winning races. So the goal is to be first at the finish line and get some fun along the way. It all sounds simple and all, more so if you consider yourself a professional racer in games. Self-confidence will do you no good here: the racing cars handle much worse than you'd like them to be.
Choosing the Chapter of Challenges
The Controls
There are two ways to control your wooden car: by tilting your device or by using the on-screen controls. I found the tilt controls to be absolutely unusable, which is hardly surprising given the track record of gyro-based controls. There are two reasons for it, the main being how difficult it is to follow what's happening on the screen when you have to rotate your device, and the second one is how slowly the car responds to your input during the race. Using the on-screen arrows gives you much more control and feels much more satisfying.
Game Loading Screen
The Game
To start with, the game is advertised as free, but - as is often the case - it has in-app purchases. For instance, you'll have to pay up if you want to start with a better vehicle. You can do without any money investments, especially if you are ready to put up with your driver's rest times; but technically you can buy anything with the in-game currency, earned with sweat and blood (and a lot of patience).
The game takes place on the Piggy Island, and you even have one of the piggies as your mechanic. Thus somehow explains the limited variety of tracks: in each race you are driving downhill, and your car doesn't have an engine. You gain your starting speed in the classic Angry Birds way: by dragging the slingshot; and you're gaining more and more speed as you race downhill. This also means that since the only driving force is the force of gravity, you won't too far or too fast if you crash.
Improve the Box You are Driving
Yes, about crashing... Each car has a certain amount of durability, which indicates how much damage you can take before going up in ashes. There are no rules: you can push and run into your opponents, which makes taking damage almost inevitable. The repercussion is that if you destroy your car, you will be automatically returned to the track in a repaired one. It's a bit of a delay, but nothing too worrisome.My main gripe with the game is the small selection of tracks. As you ride the same track for the twentieth time, the game gets boring quite fast. You also get limited playtime per day as your riders get tired; but you can switch them and let others rest.
Choose Your Race Window
Resume
Each character in the game has their individuality; this is also helped by the comics that introduce the story of the game. All in all, the game is pretty catching, though you won't spend a lot of time playing it - which might as well be Rovio's general motto. The bottom line is, if you count yourself an Agry-Birds fan, you have to try it out.
P.S. As a Christmas treat, here's a bonus video from Rovio. Magic is in the air!
Picture credit: rovio.com.