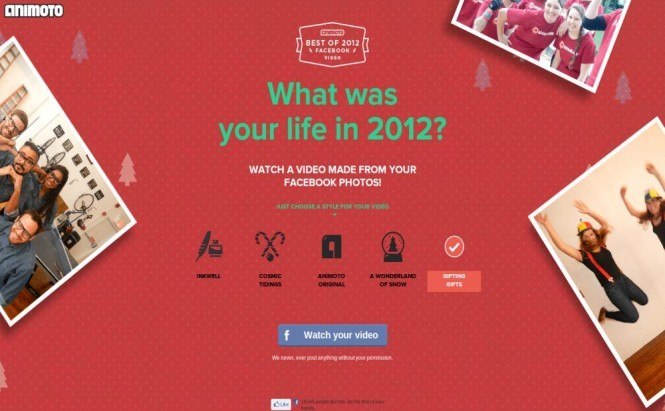 A Greeting Video in One Click
The oncoming holidays are in the air, and every day brings us closer to Christmas and New Year. We are starting to worry about presents, greeting cards, and similar things. While there are many different services that allow us to create animated greeting cards, or videos from photos; we still have to provide which pictures to use. Animoto went further. This service allows us to create these things with almost no effort. To use it, you only need a couple of things: a Facebook account and some idea about what you want to get. Then you just open the service, choose the decoration style, and click "Watch your video."
The Experiment
Having opened this service for myself for the first time, I was impressed by how easily you can create a video in it. When you push the button "Watch your video", you witness the whole process of creation; and you're doing nothing but waiting. First you see how pictures are chosen, then music is added, text comes next, and finally comes the moment when you get to enjoy the results... or find yourself a bit disappointed. You see, considering everything is chosen automatically, your first video might turn out not as good as you expect. But there's good news too: when your video is finished, you can edit it manually.
Applying Text
The editing interface is minimalistic, but it has all the required buttons: Change Style, Change Music, Add Pics and Vids, Add text. If you're using a free account, you are limited to 30-second videos, but this is quite enough. The elements (photos, text boxes) can be moved to other positions; by default you have several additional texts put in and your profile image, to credit the author of the video. There is a sound library too, in addition to the theme one; you can leave the music as it is, or change it for something you like more.
Manual Editing
When you're working on your project manually, you can have a preview of the resulting file (though you can skip it in case you are sure in the result). All your creations are saved in the folder My Videos, which can be accessed from the upper side of the page, near your profile name.
You can share your videos via Twitter, Facebook, by email, and in several other ways. If you share your video on Facebook, it appears in your Timeline and your friends can view it from there.
Preview Window
In my experiment I ended up with a totally different video compared to that which was automatically created. I've reorganized the slides and edited texts completely, and I was quite satisfied with the result. The video resembled a kind of fairytale, one that tells a snow story; it made me feel the spirit of holidays almost a month before the holidays themselves. I hope you will have some nice ideas too when you watch it below.
The Aftertaste
Frankly speaking, though I was impressed by the speed of video creation, at the same time I came away a bit disappointed with the quality of the video I got the first time. I ended up wanting to change some text and delete some pictures, but this was no trouble. Ultimately, I think this service will be a nice tool for creating holiday greeting cards for your relatives. I'm sure that any granny will be glad to see a video about her family's life in the passing year, especially if you spare some time to watch it together.