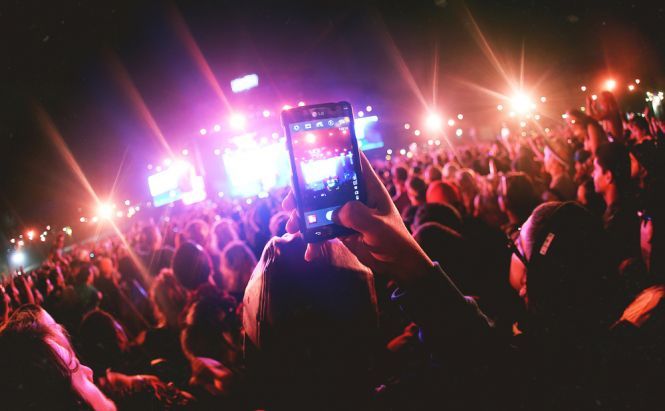 Best Apps for a Regular Gig Goer
Summer will be here before you know it, and for live show fans this primarily means the approaching of the busy season of major music festivals. On the threshold of this hot time, we've rounded up a few apps that will make any live performance even brighter and more interactive and come useful at both a large music fest and a solo gig of your favorite band.
1. Bandsintown Concerts (iOS, Android)
Bandsintown Concerts
Bandsintown Concerts is a very handy and comprehensive app that will greatly assist you in tracking the concerts of your best-loved artists. Bandsintown Concerts will keep you aware of all the upcoming gigs and fests around your location. Sync the app with Google Play, Pandora, or Last.fm, and it will show you a list of recommended events based on your favorites. Bandsintown Concerts also allows you to buy tickets and share event details with your friends.
2. Kimd (iOS)
Kimd
Probably, the most annoying thing at a concert is that everybody keeps taking pictures and photos on their devices, distracting those nearby. If you don't want to be like them and still keep a digital piece of the significant event, Kimd will provide a great helping hand. The app will dim screen brightness of your device, so taking pictures and video won't disturb anyone around you anymore. Moreover, Kimd will disable your device's LED flash, so you don't have to worry that it will go off accidentally when taking a photo in the dark. To my mind, Kimd provides an awesome way to respect other people standing around you at a concert.
3. Zippo Lighter (iOS, Android)
Zippo Lighter
There were times when people held up lighters instead of mobile phones at live shows. If you want to pay tribute to that old tradition but don't have a cigarette lighter in your pocket, Zippo Lighter will come at rescue. The app will help you generate a virtual flame like with a real good old Zippo lighter, but in an absolutely safe non-fire way.
4. Qello concerts (iOS, Android)
Qello concerts
Before going to the show of a band you'll probably want to know whether their live performances are worth seeing. Qello concerts offers a vast collection of full-length live shows and music documentaries from the 1920's to present days, which should be enough to give you a general picture. The variety of music genres is very broad, so there's a high chance you'll find live performances of most of your favorite artists. You can take advantage of the 7-day free trial and then decide whether you'd like to subscribe for $4.99 per month.
5. Dan Deacon (iOS, Android)
Dan Deacon
And the last, but not the least app I'd like to mention is Dan Deacon, the application that will enrich any concert experience. This interactive app will make you as well as the rest of the crowd with the app on their phones a part of the performance. It synchronizes light and sound of all the devices in the area and based on each user's location creates one stunning light show. The app doesn't require any Internet connection, it simply syncs to the music being played at the show. Even though the app was made two years ago and isn't new at all, the performances it creates look even more impressive than the famous flashing wristbands at Coldplay shows.