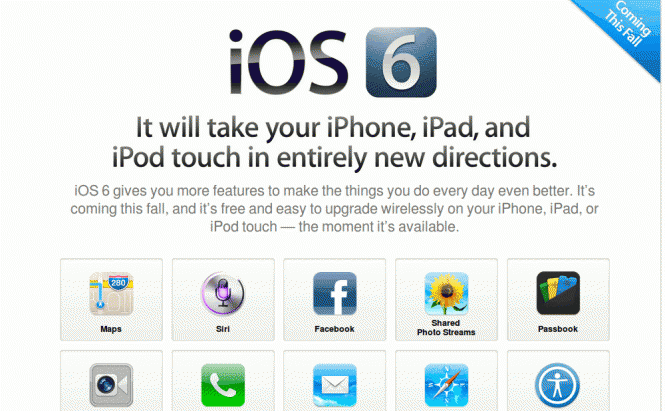 New iOS 6 - Let's Have a Look Behind the Apple's Curtain
This fall, a new iOS 6 is coming to life and Apple have posted a preview of it. They say it will feature Maps, Siri, Facebook, Shared Photo Streams, Passbook, Face time, Phone, Mail, Safari and Accessibility. Let's find out what all these nouns stand for.
The most described are Maps and Siri. We will also deal with them first.
Maps
Apple have designed an application which combines a map and a navigator. Its engine is vector-based, providing crisp text, clear graphics and smooth zooming. You can rotate the map the way you like and the names will still remain in their places being easy to read.
Maps is able to give you turn-by-turn spoken directions, provide a 3D view of the streets along with the trip you're taking and give real-time traffic information. This allows for safer driving with less distraction from the road. Besides, it counts the approximate amount of time that the planned trip will take. And like any other good navigator it reroutes if you miss the turn.
Maps is also interesting because of its new Flyover feature. With it, users can get photo-realistic, interactive 3D views of cities in high resolution. You can zoom, pan, tilt and rotate around the city and its landmarks. Besides, Maps works well in combination with Siri, providing you guidance upon your route to the chosen place.
Siri
What is Siri then? Siri is a voice-controlled assistant that requires Internet access to work.
It can help you stay aware of the latest sports news and events, getting you the scores and match schedules. If you want to spend an evening at the cinema, Siri can give you the an up-to-date schedule of flicks, or provide information about any film in question, or search for movies by actors. The same thing works for restaurants: search them by cuisine, price, location, outdoor seating, or a combination of choices and get a lot of information. Some changes involve Facebook and Twitter. Siri makes it possible to update your Facebook status or send a tweet using your voice. You do not have to type a word.
For me, the most inspiring news is that Apple is working together with car manufacturers to integrate Siri into select voice control systems. This will allow you to keep your eyes on the road while calling people, playing music, hearing and composing text messages, getting directions. It is remarkable that the screen won't light up during these operations. Thus, the distractions from road are kept to a minimum.
Shared Photo Streams
Apple are making it easier to share photos. It is done through the Share button in the Photos app. Those of your friends who use iCloud on an iOS 6 device or have a Mac with Mountain Lion will get the photos immediately, the others will get access to them via the Web. It is noticeable that your Shared Photo Streams do not count against your iCloud storage. You need a Wi-Fi connection or a cellular network to get them to work.
Passbook
This feature allows you to get access to your boarding passes, movie tickets, retail coupons, loyalty cards and more from one place. Passbook makes it possible to scan your iPhone or iPod touch to check in for a flight, get into a movie, and redeem a coupon. It gives information on expiration date, seat numbers in concert halls etc.
FaceTime
Now this feature works over cellular networks too making it easier to make a FaceTime call whereever you are. The only disadvantage is that FaceTime is not available in all countries.
Phone
The new iOS 6 makes it possible to decline an incoming call, instantly reply with a text message or set a callback reminder. You can add important contacts to an exception list and continue getting calls from them.
Accessibility
The new iOS 6 is granted more features to help people with disabilities get the most from their devices. Guided Access can help you to focus on a task, makes it possible to limit the device to one app etc. VoiceOver is a screen reader created for people with different visual disabilities; and now it's integrated with Maps, AssistiveTouch and Zoom.
Concluding, it should be noted that some of the features will be available only on iPhone 4S and iPad2 or later models. Besides, they may have some other restrictions depending on the area you live in. But, nevertheless, they will be interesting to try out, especially keeping in mind that iOS 6 going to be free and easy to update to.