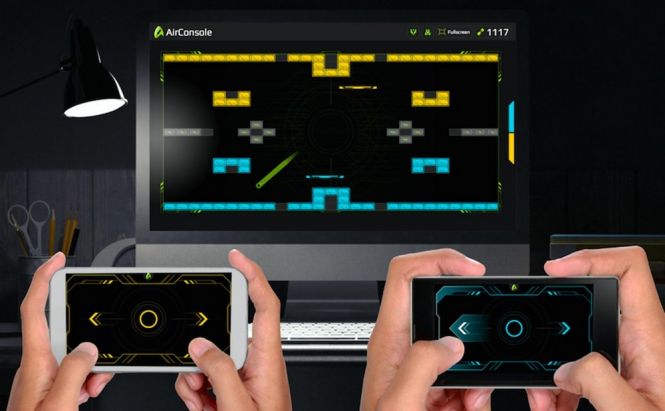 Control desktop games with your smartphone
Now you don't need to spend much time surfing the Web in order to find an appropriate game for yourself. On the AirConsole website, there are dozens of absolutely free video games that may indulge your taste for different genres. What is really special about this site and what distinguishes it from many others is its innovative approach to an instant entertainment system. All the games are designed to be played with... a smartphone as a joystick! You just download and install the AirConsole Controller app on your device (or use your phone's browser, alternatively), open the main AirConsole web page on your computer, generate a code there, and then copy it and enter into the smartphone's code field. After this, both devices get connected, and you can start choosing a game.
When the best game is picked up, all the required information is automatically sent to your smartphone, and its screen transforms into an easy-to-manage joystick right away. Besides, the dashboard configuration for all the games is not the same: it guarantees you the most convenient way to play.
You may probably raise the question if there is a noticeable delay between the action of players and the reaction of the server in a game or not. Well, the answer depends on the speed of your Internet connection. If it's really fast, no lags will occur.
Although the games offered cannot be called big-budget blockbusters, they will definitely provide you with some hours of an enjoyable activity. Here, you will find racing and space flying games, some extreme fighting genres, funny quizzes, and even an NES emulator with an option to upload your own games. The exciting AirConsole project is just being developed, so don't feel disappointed with the number of games available now. New games will be added in the nearest future to make the idea all the rage.
Choosing a game
Obviously, the AirConsole startup by the Swiss company N-Dream cannot replace a pricey and powerful console for games, but it doesn't even attempt to do this. Its niche is warm kick-backs with friends, when you open the AirConsole website, and your friends get their smartphones to let the party begin.