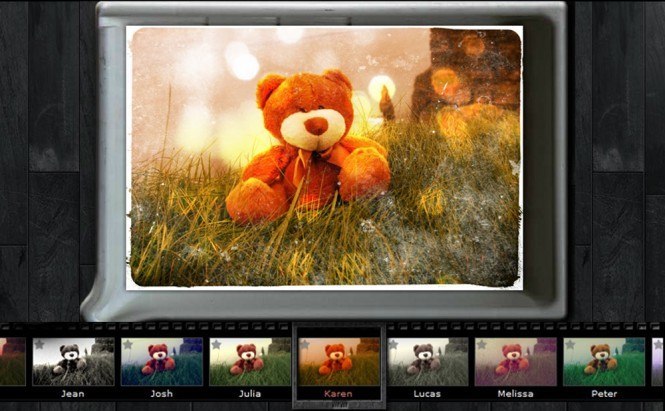 Give Your Photos a Vintage Feel
It seems like everyone has fallen in love with old vintage photos. You can find a pile of mobile photo editors that won't require Photoshop skills to help you turn your dark blurry photo of instant noodles taken with a smartphone that you struggled to hold in your shaky hands into an appealing retro-style snapshot. But if you want to plunge into the world of vintage filters, and retro borders, and bokeh overlays on the large screen of your PC, there's a whole new set of applications you should be looking at.
Pixlr-o-matic
Pixlr-o-matic is a free photo editor with quite a catching interface. In the application you will find a great deal of filters to make your photo as vintage as possible. The whole program's interface is like your own photo studio where your uploaded photo lies in a developing tray filled with liquid and each mouse move makes a ripple. Below there's a strip of effects and an indicator board with color sectors standing for different development phases.
First off, you choose from a number of filters. These are named as if they were boys and girls, which seems a very nice touch, as it is much more fun to work with filters like Harry, Peter, or Samantha than Vintage 1, Retro 11, or Very Old 17. The second stage, overlays, will allow you to use more than three hundred items pooled under the Bokeh, Retro Poster, Leaks, Color Correction, Grunge, and many other groups. Among the available borders on step three you will also find a broad variety of creative frames of various styles like Film, Rounded Corner, and Ripped Paper. On the whole, the working space is designed very neatly, so creating old-style photos in Pixlr-o-matic is a truly awesome experience.
Pixlr-o-matic Interface
Poladroid
Poladroid is another application with a rather creative interface, designed in the shape of the famous instant camera - Polaroid. All you need to do is drag and drop you photo onto the camera on your desktop and wait for it to turn it into a virtual Polaroid snapshot. The process of photo transformation imitates the development of an image on a real Polaroid card. You may wait till the process is over or use the "I want a sample now" option and have a half-developed sepia image, which is also so very vintage. But the most amazing thing about the program is that the resulted image is almost never the same. I used one and the same photo several times and always had a different variation, sometimes almost similar but most of the times the resulting photos were quite unlike each other. Poladroid comes for free, but you can always support the developers with an affordable donation.
Poladroid Interface
XnRetro
The interface of XnRetro seems quite classic compared to the other two applications. Twenty retro filters, fifteen light overlays, and thirty frames are there at your disposal to be combined in different ways to create the vintagest photo of all times. And there's also a large preview option to see your resulting masterpiece better. Unlike the other two editors, XnRetro allows you to control the level of customization in terms of brightness, contrast, exposure, saturation, and other qualities of your photo. Just like Pixlr-o-matic, XnRetro is cross-platform, available for computers and mobiles alike. It also allows you to save, send your processed images by e-mail, or share them on Flickr, Facebook, Twitter, and so on directly from the app's interface.
XnRetro Interface
Well, for me it's hard to choose which of the three editors I prefer most. I enjoyed working with each of them. All three are free, easy to use, and lovely to look at so you are welcome to download and try just any of them. So if you want to make an album of vintage photos on your PC or just recreate the retro vibe in your photos, Pixlr-o-matic, Poladroid, and XnRetro give you some really great options.