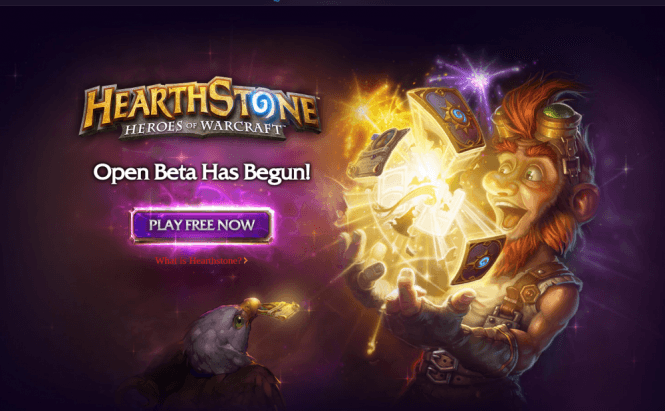 Hearthstone Enters Open Beta
Have you ever played Warcraft? Do you remember the heroes and creatures that were in it? Now you have the chance to enjoy them in a new setting: as cards in a board game. You are provided with minions to control, powers to use, and weapons to fight with, aiming at the opponent's champion.
First Impressions
To be frank, the videos of the game I watched on YouTube left me with an impression that it's something unremarkable, with its excessive animations, and short descriptions on the cards (which are quite a few, admittedly). My opinion has changed slightly after I've played a couple of rounds.
There are Nine Characters to Choose From
Minor Things
Going into details, let's speak about Hearthstone's drawbacks first. These are not many, but quite irritating. If you've played Magic 2014 or Berserker, you will find this one much easier and a bit more shallow, with not so many cards and card combinations, which leaves an unpleasant aftertaste.
As for the card balance in Hearthstone, it is also not so simple to find. The game itself is free to download, and you can get more cards at no cost; but if you want to build a strong deck quickly, you will need to buy a bunch of card packs, which cost a lot and bring you noticeable advantages. Besides that, the randomized card choice during the game doesn't work for having a good hand at the right moment.
The tutorial, albeit with nice bits of humor, is too long, to my mind. The game isn't that much difficult to warrant such arduous training. Hearthstone requires strategy and tactics skills, but there is no way to learn all the cards and the best game style in five matches. You benefit more from fighting against real people.
Although very beautiful, the sheer number of visual effects becomes a bit irritating after you've played for a while and it looks like they slow the gameplay down.
Build Your Deck with Care
The Good Bits
Hearthstone is good for inexperienced players, who want to try their hand at collectable card games (CCGs). Thanks to its easy mechanics, it may serve as a perfect introduction. After several matches, you learn most of the cards available to you initially. Besides, by the fifth tutorial match you know how interesting CCGs are for you.
You can play without spending real money: just do the daily quests and get in-game currency. In this case, prepare to go a long way till you have a really strong deck for each of the characters. Note that a couple of expert packs will be granted to you as you advance through levels. It makes things less tedious a bit, combined with the rare cards you sometimes get.
Play Your Cards Carefully
The biggest asset is the interface design, which resembles an inn or a saloon you enter to have a drink and play a match or two with your friends. So, you open a card holder with heroes, minions, spells, and weapons from the World of Warcraft realm and start the fight. You can play Hearthstone just for the fabled heroes and creatures, enjoying their individualities, especially if you are a fan of the world of Warcraft.
The game table deserves a couple of words too. To me, it was the most interesting thing to play with, as the board is interactive. You can break windows, get the dust out of a carpet, winkle out a gem from an idol, or light a fire. This helps you kill some time while you wait for your opponent's move. The best thing of the game table is the wick which appears in the middle when your time is running out.
A Spell Card Played
Final Words
The game lures you in with its simplicity and peculiar realization, but it risks being uninteresting to those who played Magic 2014 or Berserker. Hearthstone reminded me of one board game, called Inn Fighting, which is built around a similar concept of a group relaxing in an inn. It is always pleasant to hear: "Welcome back! We are glad to see you again!" when you enter a place, even if it is a place inside a game.