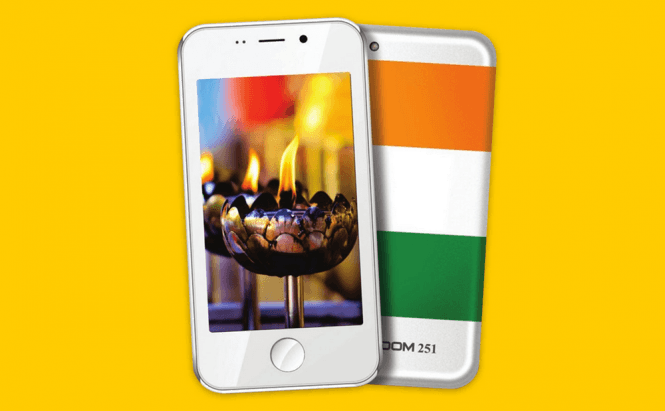 Meet Freedom 251, a $4 smartphone available in India
I've heard the concept of cheap and affordable mobile devices before, but come on: a phone that's cheaper than a big burger or even a cup of coffee is just ridiculous. Believe it or not, such a phone actually exists as a startup company called Ringing Bells has just released a $4 mobile on the Indian market. Furthermore, much to everyone's surprise, the gadget has a decent look and even embeds some acceptable hardware, which makes me wonder how making it costs less than $4.
Called Freedom 251, the smartphone supports 1 GB or RAM, 8 GB of internal storage space (expendable to up to 32 GB) and a 1.3 GHz Quad-core processor. Other features include a 4-inch display, a 3.2 MP back camera and 0.3 MP front-facing one and Android Lollipop 5.1. Lastly, the phone comes with a one-year warranty, so you don't need to worry that it's going to stop running as soon as you get home. According to the experts, the biggest drawback for this gadget is the 1450 mAh battery, which has a significantly lower capacity than what most of the phones that we're used to offer. However, if you're someone who has never been able to afford a smartphone up until now, I'm pretty sure that the 'experts'' opinion won't matter the slightest.
As I said in the beginning, keeping in mind the decent hardware and the materials used to make the phone, I'm very puzzled about how these could possibly cost less than $4. If you were to take a guess, they actually cost more to make, but Ringing Bells is selling them under their price as a publicity stunt. If that's the case, I must say that this is one of the best advertising campaigns that I've ever seen.
If you're the kind of person interested in bargains and saving a few bucks, you might also enjoy reading some of our previous stories such as: "Why pay more? Top 5 cheap Android smartphones" or "Cheap alternatives to the expensive Apple Watch".