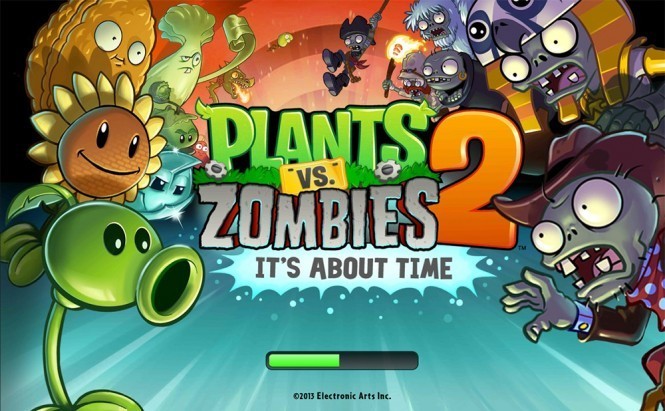 Plants vs. Zombies 2: When the Freemium Model Doesn't Ruin the Game
In my article about Plants vs. Zombies I was wondering whether the game would get a sequel and if the acquisition of PopCap by EA Games would bring about any changes to the core concept of the game. Well, now we finally have Plants vs. Zombies 2: It's About Time, and now it's freemium. It was only natural that fans of the brilliant original game reacted quite negatively to the new monetisation model, expecting to be constantly demanded to pay cash to carry on playing.
So does the freemium model mean that you can't enjoy the game to the full without making in-game purchases? Well, I must say it doesn't look this bad. You can still access all the locations and levels and get most power-ups without paying a penny. There's nothing like time limits or annoying pop-up messages continually begging for money either, so you'll soon find out that sometimes freemium games can be quite enjoyable to play with no obligation to spend any real money.
Ancient Egypt location
Another drastic change Plants vs. Zombies 2 has brought is that now it's nonlinear, which means you don't have to play one level after another in a specific order, but instead you have a map with all the available locations: Ancient Egypt, Pirate Seas, and Wild West - and in each of them you can choose a stage to play next.
The game also throws in a number of new plant species, including Bloomerang (which hits up to three zombies in a row), Iceberg Lettuce (costs no suns at all and freezes a zombie if it steps on it), Bonk Choy (punches nearby zombies), and Coconut Cannon (fires at zombies and causes explosions). However, if you decide to manage without buying any plants, you'll have to make do without some good old friends from the first Plants vs. Zombies, like Snow Pea, Squash, Torchwood, and Jalapeno.
Some of the new plants in the Pirate Seas location
The range of the undead has also got much wider as each area has a few zombies of its own kind. Some only get new costumes like mummy rags in Ancient Egypt or cowboy clothes in Wild West, but some have become self-reliant species with new, unique abilities like stealing suns or creating tombstones.
Many found the original Plants vs. Zombies not challenging enough. Well, the same certainly cannot be said about the sequel as some missions are impossible to pass without using power-ups. On almost any level, you can use plant food which enhances the abilities of every plant in some way. For example, it will cause a sunflower to instantly produce a bunch of suns and make wall-nut's shell much tougher. Another set of upgrades can be purchased with game coins and these upgrades are quite powerful. They allow you to interact with zombies by pinching, tossing, or electrocuting them using gestures. But using these doesn't feel like a fair game to me.
Some of the new zombies in Wild West
Among new additions to the game you will find such nice mini-game as Piñata Party. You will get regular invitations to play a special mode and have an opportunity to pick from a bunch of piñatas and get various prizes. Occasionally, you will also be offered to play a level featuring Treasure Yeti, who, if you defeat him, will present you with a Lunch Box, where you will find something valuable like a key or a diamond.
Most of us feared Plants vs. Zombies 2 would turn into a money-grabbing scheme but PopCap managed to maintain a very careful balance to make the game quite non-restrictive to play even without making in-game purchases. I should say I really miss Snow pea, my favourite shooting plant from the original game, but avoiding it makes the game more challenging as Snow pea was quite powerful; and now I need to plan my defenses more thoughtfully, which makes for a greater experience. Overall, to me it seems that most freemium elements in Plants vs. Zombies 2 are there to make you pay to cheat, while playing fair is much more fun. This sounds like a deal to me.
Now, the problem is that the game is available only on iOS and Android at the moment, but there's a way out for Windows and Mac users: just install BlueStacks and it will help you run Android apps on your computer, so you can enjoy Plants vs. Zombies 2 on a bigger screen in the comfort of your home.