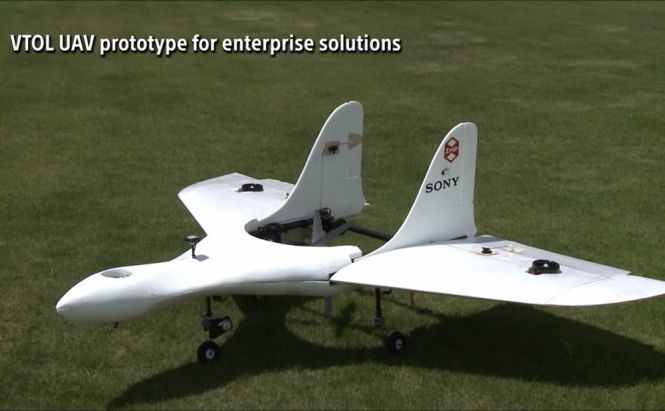 Sony unveils its first drone with vertical takeoff
Aerosense, a joined venture between Sony and the robotic startup ZMP inc. has revealed the first prototype of its drone that is capable of taking off and landing vertically. The drone does not look much like its quad-copter brethren and drastically surpasses them in terms of speed and flight distance.
The prototype, dubbed DTO1-E, can take off and land vertically quite easily, which is very surprising if we take into account its shape and the number of props. The final version is expected to be able to fly for two hours with 22 pounds of additional equipment on board and reaching the maximum speed of 106 miles per hour. Unfortunately, this is not a consumer drone, so it will be available only for business purposes which, according to the Wall Street Journal, may include "inspecting aged infrastructure and surveying land." DTO1-E is also going to be completely automatic, with the user only limiting the specified area of surveillance. According to the information on the official website, the company will also provide business clients with cloud services required for data storage and analysis. Watch the video below to see it fly.
Nothing exact can yet be said as for the release date of the final version, but, as Engadget previously reported, the drone might become available for businesses "sometime next year." Although we cannot say whether Aerosense is developing any consumer drones, I guess it's quite unlikely for Sony to bet only on the business market. The company also revealed a quad-copter, dubbed AS-MCO1-P. You may watch the release video of AS-MCO1-P here, but don't expect it to be meant for a general consumer though.