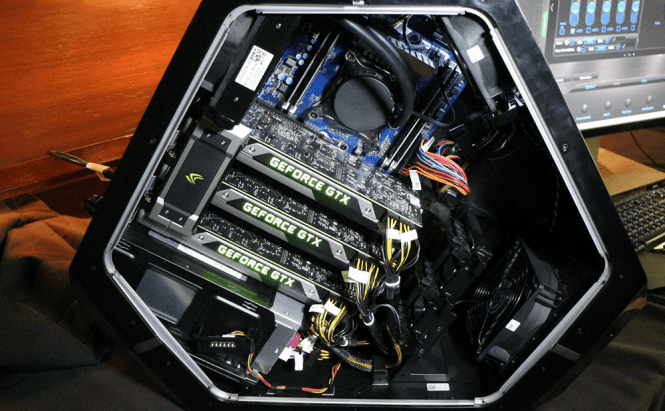 Top 11 most interesting cases for your PC
Those who like the DIY (do it yourself) approach when it comes to their desktop know that, despite the fact that cases aren't anybody's priority, they're actually very important. Not only do they allow you to give your desktop that little bit of personality that you desire, but they also provide the room that your hardware requires and the cooling to ensure that your system will run smoothly for a long time. So, without further ado, here are my favorite 11 cases for your DIY desktop.
NZXT Phantom 820
NZXT Phantom 820
One of my personal favorite cases is NZXT Phantom 820. This $200 chassis provides a ton of room including support for a 360mm top radiator and a bottom 240mm radiator, so those who are thinking about using water cooling for their system should really take a look at this product. In case you're interested in the kinds of motherboards you can fit in this case, the answer is simple: almost any kind; Phantom 820 offers support for ATX, Micro ATX, XL-ATX and E-ATX/Cooling. Additional advantages include an awesome cable management system, three 200 mm fans, dust filters on every side, fan control options and some neat aesthetic touches. If this is too big, here's a bonus:
NZXT Phantom 410 (Bonus case)
NZXT Phantom 410
The NXZT Phantom 410 wasn't in my original plan for this article, but I've decided to list it as an alternative for those who need a cheaper yet equally amazing option. This mid-tower looks spectacular (I dare say, even better than the more expensive 820 version), but it only offers support for a 240mm top radiator (in case you were interested in using water cooling). This product can work with ATX, MICRO-ATX and MINI-ITX motherboards, offers fan control options and uses slits, so you won't need screws and screw holes. If you're interested, prices start at $100 on Amazon.
Silverstone Raven RV03
Silverstone Raven RV03
If you're not going to use liquid cooling, but you're still worried about the temperatures inside your PC, then you should check out the Silverstone Raven RV03. As you can see in the photo, this case includes some fans placed on its bottom, which is great, since, according to physics, warm air has the tendency to go upwards anyway. The chassis's price starts at $115, but it's worth every cent. The one thing you want to be mindful of is that the hardware is connected in a bit of an "unorthodox" way, with the motherboard tray rotated at a 90° angle.
Thermaltake Level 10 GT
Thermaltake Level 10 GT
Do you want easy access to your hardware components at any time? Then Thermaltake Level 10 GT is a product that you should really consider. This case starts at $200 (I don't really like the simple $135 version). The casing allows you to neatly compartmentalize your components. Not only will this layout make the inside of your desktop look good and remove most of the common cable management issues, but it will also help with heat and noise issues. Another great thing is that the chassis comes with dust filters, which will help extend the lifespan of your components.
Corsair Obsidian Series 900D
Corsair Obsidian Series 900D
The Corsair Obsidian Series 900D case has a pretty unique design, but it's also quite pricey, starting at $340. The chassis is what people call a super-tower: beside the regular tower-like structure, it also includes an extra section at the bottom where you can place 12 additional storage drives, numerous fans or the base of a very large water cooling system. Other than that, the case has an elegant design, removable dust filters and is compatible with basically every motherboard you throw at it.
Rosewill Thor V2
Rosewill Thor V2
If you think that a huge fan would solve your heat problems, then Rosewill Thor V2 is exactly what you're looking for. This full tower is compatible with Micro ATX, ATX, E-ATX and XL-ATX motherboards, it's mainly made of metal, and its price starts at $130. In my eyes, what makes this chassis stand out are the chevron shaped fans at the top of the case which can also be closed to stop the dust from going inside.
Corsair Carbide Air 540
Corsair Carbide Air 540
Since we're talking about interesting PC cases, I couldn't ignore Corsair Carbide Air 540. This cube-like chassis has two compartments keeping your processor and your graphics card separated from your hard-disks, power supply and other components (ensuring that the cooling is mostly directed at the most important parts of the PC). Additional advantages include tons of space for water cooling or additional fans, a dust filter in the front and cable routing options. In case you're interested, the prices for the Corsair Carbide Air 540 start at $124.
Lian Li PC-X510
Lian Li PC-X510
Another weirdly-shaped (in a good way) case, Lian Li PC-X510, is quite expensive, with prices starting at $320, but it's a bit of brand name for this market, just like Apple is for smartphones. This huge chassis provides three clearly separated areas for the motherboard, power supply on storage devices, so you can easily direct the air flow towards the important hardware components. The Lian Li PC-X510 is one of the largest cases I've seen, so it's compatible with any type of motherboard you want to use.
Antec 900
Antec 900
Even though it's already been present on the market for many years, the Antec 900 is still one of the best cases that you can find. This $100 chassis is affordable and very effective when it comes to cooling your system thanks to its multiple large fans. In case you don't have a huge budget, the Antec 900 is one of the most popular and most sought-after cases in the gaming community. Additionally, this is one of the most durable products of its kind, so you won't have to pay for a new one anytime soon.
Cooler Master Cosmos II
Cooler Master Cosmos II
Although Cooler Master Cosmos II is an expensive case (at least by my standards), with prices starting at $375, most of those who buy this product say that it's worth the investment. As you can see, the chassis has a bottom section where you can place a water-cooling radiator, fans, or additional storage components, but what you may not realize is how huge the case actually is. Cool Master Cosmos II isn't only compatible with any motherboard out there, but will also allow you to have a quad AMD Crossfire or Nvidia SLI setup with room to spare.
IN WIN 805
IN WIN 805
Despite the fact that IN WIN 805 is a delightful case in its original form, the reason it's on this list is the blue version of this chassis, which, unfortunately, isn't available for purchase and has only been seen at CES. The product is made of aluminum and tempered glass, comes in three color schemes, offers support for rear and front water cooling radiators and embeds a USB 3.1 Type-C port.
Xforma MBX MKII 10
Xforma MBX MKII 10
And finally, last on our list is a case that I've been dreaming about buying since it became available for pre-ordering, but will most likely never be able to afford. The Xforma MBX MKII 10 is a limited edition chassis that start out at $1250. However, there are many available add-ons such as fan mounts, additional top-side fans, radiator mounts, luminous panels, cooling reservoirs, etc., so you can easily get to $2000 or more. By default, the product offers a separate space at the bottom for cooling systems or additional drives, a modular design for its front-side, a motherboard tray, cable management options and printed circuit boards.
Now that you've seen my top 11 most interesting cases for desktop PCs, you might also want to take a look at some of our previous components-related articles such the five-episode hardware guide or find out how to overclock your CPU.