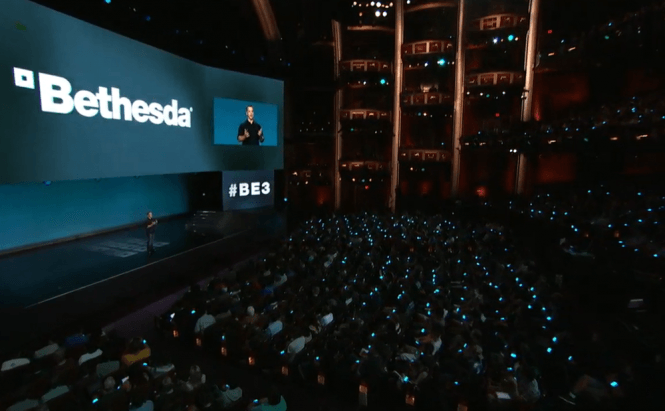 A Rundown of the Best Games at E3 2015
E3 2015 brought some pretty interesting announcements, but was also more about sequels and remakes than new original stuff. The conference, which recently took place at the Los Angeles Convention Center, is one of the biggest gaming events of the year. If you didn't have time to watch the live streams, here's a rundown of the best games presented at the event. Since our website doesn't have a section dedicated to consoles, I will only include games playable on the PC. If you would like to know more about the games for PlayStation, Xbox, Wii U or virtual reality, let me know in the comments section and I will oblige.
Fallout 4
Let's begin with one the best titles from Bethesda: Fallout 4. To be totally honest, the title had been announced a bit prior to the event, but now we have more details about the gameplay and a 30 minute preview. The story of this tactical RPG takes place prior to the nuclear war, so basically it precedes the previous games from the series. The new features include the ability to build your own settlements in a Sim-like fashion or the ability to modify your weapons and power suit. The official launch date is November 10, 2015
Doom
Bethesda, which managed to quickly become one of the biggest game developers in the world, also presented a Doom reboot that looks pretty cool. However, excepting some awesome graphics, not much has changed. But that may not be such a bad thing. The game features the same gory monsters and some bad-ass weapons to kill them with. What's new is that the game will contain an easy-to-use level creation tool called Doom Snapmap, which will allow you to conveniently create arenas and share them with the rest of the community. Doom will become available sometime in Q2 2016.
Mass Effect: Andromeda
Jumping to EA, the company announced that the Mass Effect series (one of my personal favorites) will be continued. The action of Mass Effect: Andromeda will be executed in the same style as in the previous games from the franchise, but it will feature all new characters and will take place in a different galaxy than the one we've previously saved several times. You will play as a "Pathfinder" whose goal is to find a new home for humanity. Besides the wildlife, cutthroats and conflicting civilizations, the Andromeda Galaxy is also home to an ancient race called the Remnants who seem awfully similar to the Reapers from the previous games. The game should be launched sometime next year.
Dishonored 2
I know it's already the third title from Bethesda, but Dishonored 2 simply cannot be ignored. Even if you're not a fan of steampunk, you will still appreciate the aesthetics in this game. The gameplay will keep the style of its predecessor, so expect a bunch of parkour action and lots of sneaking around, but this time it seems that you will be able to play with a grown-up Emily Cauldwin as well as Corvo. Dishonored 2 is set to be released in the spring of 2016.
Dark Souls 3
Dark Souls is back! Buy a shock-resistant keyboard and get ready for a lot of screaming at your screen, as the next game from the franchise promises to kill your character even more times than its predecessors. The game looks great, seems like there's plenty of locations to explore (and die, most likely) and, if that thing that comes alive in the trailer is one of the bosses you have to fight, you're in for a bloody treat. The game will be released in the spring of 2016.
Star Wars - Battlefront
All those who love Star Wars should be thrilled about this one. Star Wars - Battlefront brings action fans exactly what they wanted: total mayhem. This 20 on 20 multiplayer shooter lets you use laser weapons, fly around in Fighters or X-Wings, control Walkers and even fight with lightsabers. Additionally, you get to see how both sides of the force feel like as you can choose to be in the service of the Republic or to fight for the Empire. I'm still uncertain if this game will turn out to be as good as its presentation trailer, but hopefully EA won't disappoint us. Star Wars - Battlefront is set to be released in November this year.
Ghost Recon: Wildlands
Ubisoft actually impressed me with its Ghost Recon: Wildlands presentation. This open-world island invasion game seems very interesting, as it doesn't appear to have a main quest, so you are completely free to do whatever you want to. The action takes place in Bolivia where the legendary Elite Special Forces team, the Ghosts, is battling drug dealers and the corrupt government. Ghost Recon: Wildlands can be played solo or in co-op mode with 3 other friends. I currently don't have any official information about the game's launch date.
Mirror's Edge: Catalyst
Another title I'm very interested in, Mirror's Edge: Catalyst, looks almost ready to play. This game features a wide-open city that the player can explore. What's revolutionary about it is that it doesn't feature any levels or loading time. Catalyst is an original story, not a sequel for the previous game, and you'll be thrilled to know that this time you won't be forced to shoot even a single gun. EA announced that the PC version of the game will hit the markets on February 23, 2016.
For Honor
One of the best video presentations at this year's E3, For Honor looks like a promising multiplayer sword-fighting game. Ubisoft showcased it as a brand new genre, but that seems like an overstatement from my point of view, as the game is basically a combination between hack and slash and MOBA. What I really liked is that it seems to span across multiple eras and societies, as you can play with Knights, Vikings, Samurais, etc. Unfortunately, there aren't too many details about the release date; all I know is that it will happen sometime in 2016.
Metal Gear Solid V: The Phantom Pain
And last but definitely not least, Metal Gear is finally coming to PC. Yes, you've read correctly; The Phantom Pain is set to arrive on September 1st, 2015 for a large number of platforms, including Windows. Kojima's trailer is awesome, managing to get all the fans of the series excited without giving too many information about what's to come. Furthermore, the "Les Enfant Terribles" mention from the end of the clip really spiked up my interest. At the moment everything about the game seems bizarre, but things will probably become clearer after we've played it.
Less popular, but still interesting
Star Wars: The Old Republic's 'Knights of a Fallen Empire' expansion - Star Wars fans will be pleased to know that The Old Republic MMO is getting an add-on this October. The expansion will be free for all subscribers and, among other things, it will raise the level cap from 60 to 65.
Just Cause 3 - Square Enix's explosive title will arrive on December 1st 2015. This action-adventure game lets you use a wide variety of weapons to destroy everything in your sight, so expect total mayhem.
Call of Duty: Black Ops III - Another year, another Call of Duty. Activision didn't break our jaws with the announcement but this multiplayer seems fun, despite looking somewhat bland. The graphics are pretty awesome with life-like explosions, so the fans of the franchise will probably like it. The game is coming on November 6.
Anno 2205 - The Anno series will also be continued, but the gameplay (once again) will take place in the future. However, this time, instead of building your city on the sea-floor, you will do so on the moon. As far as I'm concerned, I don't actually really like space-oriented city builders, but since I love the franchise, I'm probably going to play it anyway. The game is scheduled to arrive on November 3.
Deus Ex: Mankind Divided - Square Enix announced the continuation of the Deus Ex series with Mankind Divided. This game successfully combines RPG, FPS and stealth elements into a cyberpunk-theme scenery. The game is well-designed and seems to be a lot better than its predecessor, but we will have to wait until 2016 to play it.
South Park: The Fractured But Whole - The South Park gang is back with a new title which promises to be even more fun than the first one. Unfortunately, there's no release date for this one yet, but I'm going to keep you up-to-date with new details as soon as I have some. If you're fan of South Park, or simply like to laugh, you should really try this one out.
Unravel - Coming from a Swedish independent gaming studio, Unravel is one of the original games that really caught my eye at this year's E3 conference. The game is about a yarn (name Yarny) who stumbles through levels collecting memories which will help the player understand what is actually going on. The controls and gameplay are easy to master, the dialogs are well written and the graphics seem great. A bit of inside information: as you spin your tale, Yarny will unspool leaving a thread behind so you will constantly need to find those little balls which replenish his body to keep the story going.
Assassin's Creed: Syndicate - And of course, we couldn't have an E3 event without another Assassin's Creed. This time it's called Syndicate and its novelty is that it will allow you to play as a female assassin. The action is set to take place in London, but it doesn't seem to be very accurate in its recreation of the environment. Hopefully, they won't botch this one up like they did with the previous one. Assassin's Creed: Syndicate is set to arrive on October 23.