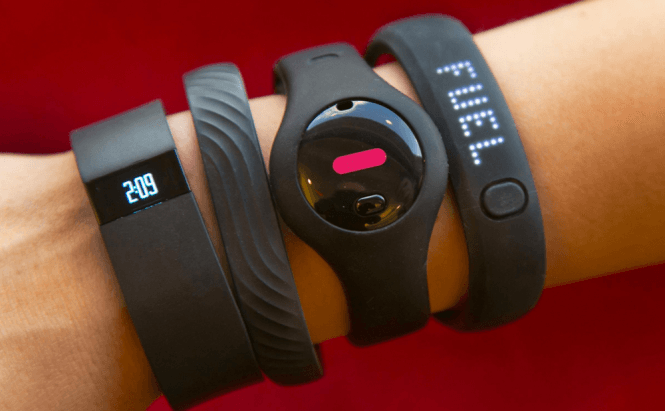 Best Fitness Bands in 2015
Wearables are not that popular yet, but as they become better and more affordable, the number of people purchasing them is constantly growing. If you're concerned about your health, need something to motivate you to stay in shape or want to keep track of your exercise routine, a fitness band might be just what you need. Here's a list with the best wearable fitness trackers available on the market this year.
Fitbit Charge HR
Fitbit Charge HR
As far as I'm concerned, Fitbit Charge HR offers the best overall performance out of all the fitness bands that are currently on the market. This wearable costs $149 on its website, keeps track of your sleep and walking, monitors your heart-rate while you're working out and while your relaxing, tracks the intake of calories (more effectively than most of the others) and offers data about the calories that you burn. Additional advantages include many size options to perfectly fit on your wrist, a silent alarm, a battery life of 5 days and an OLED display which shows daily stats and caller's ID. Most specialized websites state that Fitbit Charge HR is one of the best products for beginners and those looking for a fitness community.
Moov Now
Moov Now
Moov Now is a fitness band, but this one goes around your leg instead of your wrist. The device can also be detached from the plastic strap and placed a more conveniently. This wearable is a pretty new product (not available to the general public just yet), and as far as I'm concerned, it's best used by athletes, because it can coach you through professional training in running, boxing, cycling, etc. Furthermore, the device is capable of monitoring your sleep, provides various levels of training intensity and is water-resistant, so can you go swimming while wearing it. If you're interested in acquiring Moov Now, its regular cost is $99, but if you go to its website and pre-order now, you can buy it for just $59.
Xiaomi Mi Band
Xiaomi Mi Band
In case if you're looking for a fitness tracker that is, above all, affordable, Xiaomi's Mi Band is the best option that you have. Costing only $19, this wearable can monitor and analyze the quality of your sleep, keeps track of your daily walking distances, calculates the calories that you burn and can be used as a morning alarm. To be honest, the product doesn't look spectacular, and its strap isn't the most comfortable that you'll ever wear, but it provides military grade sensors, the battery lasts up to 30 day and is very cheap. If you want to buy one, you can find it on Amazon or the manufacturer's website.
Garmin Vivoactive
Garmin Vivoactive
If versatility is what you're looking for, Garmin's Vivoactive is what you should be looking at, as it's a great companion for a variety of sports. Unlike most of the other names on this list, Vivoactive has GPS support, which allows it to accurately track your movement whether your run, swim or cycle. The wearable also offers sleep tracking (which, unfortunately, isn't very accurate) and a silent alarm. Lastly, the fitness tracker can display notifications from your phone, which might come in quite handy. The product costs around $250 and can be acquired on its official website.
Microsoft Band
Microsoft Band
In case if you need a fitness coach or wish to be one yourself, Microsoft Band may be just what you are looking for. Wearing this band can be somewhat uncomfortable because of its rigid plastic strap, but as far as I'm concerned, that is the only real fault that you can find. Otherwise, this wearable provides lots of great fitness-related functions such as GPS tracking or sleep monitoring along with additional functionality, like a QWERTY keyboard that will allow you to quickly reply to texts. The Microsoft Band can be bought for as little as $140 on the Amazon website.
Bonus content: Jawbone UP Move
Jawbone UP Move
While it's not exactly a band, I felt compelled to add Jawbone UP Move, as it's not only a reliable fitness tracker, but also a very practical one. This clip-on can be attached to various parts of your clothes or accessories so that it doesn't get in the way or cramp your style. Additionally, it's pretty cheap, costing just $50 on its website, can monitor the number of steps you take, analyze your sleep and provide dedicated tracking modes for a wide variety of sports, from jogging to Yoga.
Bonus content: Misfit Shine
Misfit Shine
Last on our list is Misfit Shine which, in my opinion, is the best wearable when it comes to tracking your sleep and monitoring its quality. The gadget gives you insight about your light and REM cycles, lets you set sleep goals and alarms. Furthermore, it tracks your activity (steps, swimming, running, cycling, etc.), is water-resistant up to 50 meters, and the battery (which lasts up to 6 months) isn't rechargeable, but simply changeable. In case if you were wondering, the 12 dots on the face of the wearable start the day turned off and light up as your progress towards your daily goals. Misfit Shine costs $70 and can be purchased on its developer's website.
If you're still unsure about which product to pick, you should probably go with the Xiaomi Mi Band. As you can see in the description, each of the names on this list is great for a specific thing, and if you don't know exactly what you're looking for, why not start off with a really cheap band that you won't regret getting bored with?