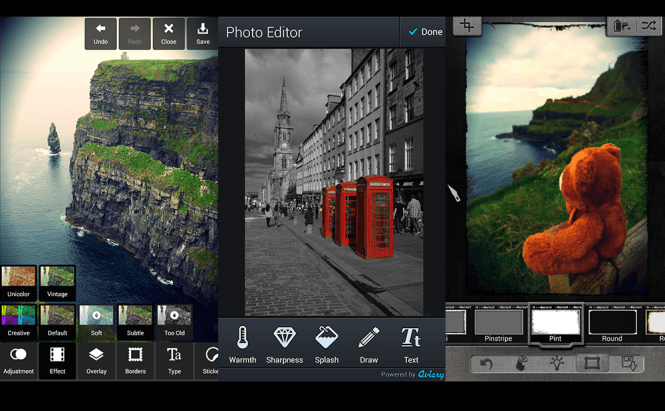 Best Free Photo Apps for Android and iOS
Smartphone cameras are constantly getting better and the quality of their snaps is growing good enough to forget about point-and-shoot cameras. Along with digital cameras vanishes the necessity to store and edit your photos on PC. And that's where numerous iPhone and Android photo editing apps begin to thrive. Although not as professional as Photoshop, these apps still provide a tremendous selection of various tools to enhance your snapshots on-the-go. On this list, I'll focus on best free nevertheless powerful photo editing apps for Android and iOS.
1. VSCO Cam
VSCO Cam is one of the most heavy-featured photo apps, designed mostly for those who prefer advanced editing. VSCO Cam has all the necessary tools to fine-tune any kind of photo, be it a portrait or a landscape. Its immense range of options includes cropping, rotating, fading, tinting, vignette, and many other tools. The app also lets you calibrate the brightness, saturation, sharpness, contrast, and exposure levels of your snaps. Basically, VSCO Cam is a quite powerful photo app to satisfy the needs of those who prefer professional mobile editing. As for casual users, it might take them some time to figure out what each of the icons in the tools section stands for, like a sun for exposure or a triangle for sharpness, still it's worth mastering its interface to get more control over the editing process.
Editing Images in VSCO Cam
2. Snapseed
Quite similar to VSCO Cam in the sense of advanced editing, Snapseed brings a tremendous set of tools to tinker an image. No matter whether you need to go a quick way to auto-correct your picture or adjust every bit of it applying all the available options, Snapseed is a good choice. Although the interface might seem a bit unusual mostly for the innovative, real-time sliders controlling the effects, a simple tutorial will make it quite easy to get used to it. Beside an array of tools found in almost any advanced editor, like cropping or straightening and the adjustment of saturation, brightness, and contrast, Snapseed also offers quite a number of frames and filters ranging from Grunge, HDR, Vintage to Drama and Tilt-Shift. Moreover, the app has the selective adjust feature allowing for choosing and editing a particular part of your photo. Overall, Snapseed is a solid app perfectly combining simple design with powerful features.
Editing Photos in Snapseed
3. Pixlr Express
Pixlr Express by Autodesk is another feature-rich application with more than 600 available effects. The number of its photo-fixing tools, overlays, borders, and other items, is just overwhelming. In the app, you will find everything you need from useful tools like healing, red-eye removing, or smoothing effects and beautifying filters like bokeh or vintage to cartoon stickers. And all this myriad of options is wrapped up in a neat interface that makes them very easy to find and use, which is probably no surprise, given the famous developers behind the app.
Editing Photos in Pixlr Express
4. Photo Editor by Aviary
Photo Editor by Aviary is a nice blend of actual editing tools, filters, and some extras like stickers and frames. Along with a set of basic editing options including orientation, cropping, focusing, brightness, contrast, and sharpness, the app has separate tools to enhance your portrait photos like red eye fixing, teeth whitening, and blemishes removing. For quick tweaking, Photo Editor by Aviary has a one-tap enhance tool allowing for immediate applying of illuminating, colour fixing, or a hi-definition effect. The photo editor will also let you draw on your photos, add text, and even create a meme. Almost all the features in the app are free, except for a few extra sets of frames, stickers, and effects that can be purchased within the app.
Editing Photos in Photo Editor by Aviary
5. Pho.to Lab
If you're not quite into spending time on advanced controls, Pho.to Lab is definitely your choice. This app will allow you to add a whole pile of filters on various themes requiring absolutely no effort from your side. The diversity of the effects offered is truly impressive letting you put your face on the cover of a magazine, a banknote, or a celebrity's t-short. It also has a great variety of photo templates like face-in-hole, headswear, or human-to-animal montages, tons of borders and collage shapes, as well as stylized and artistic effects and backgrounds. Pho.to Lab is free, nevertheless you can purchase the Pro version which will remove watermarks and ads and offer extra packs of filters.
Editing Photos in Pho.to Lab
6. Pixlr-o-matic
Pixlr-o-matic is noticeable for its catching interface with stylized hand-drawn elements and filters having various male and female names like Julia or Fred. The app puts at your disposal an incredible variety of filters, overlays, and frames. Pixlr-o-matic provides about a hundred filters pooled under Creative, Vintage, Too Old, Soft, and other groups, circa three hundred overlays including Bokeh, Grunge, and Retro Poster, and over two hundred different borders. Although apart from filter enhancement, the app won't let you do any basic editing like cropping or brightness increasing, it's still very easy to use and won't bother you with ads.
Editing Photos in Pixlr-o-matic
7. PicsArt Photo Studio
The PicsArt photo editor is at the same time a drawing app, a photo collage maker, and a social network. The app offers a great selection of tools for photo manipulations and tons of effects, overlays, frames, stickers, clipart items, and text bubbles. Although PicsArt's working space is not so neatly organized with annoying adds too close to the array of tools, the app should be given credit for its tremendous arsenal of features and all-in-one functionality.
Editing Photos in PicsArt Photo Studio
8. Adobe Photoshop Express
The creators of the most famous desktop graphics editor, Adobe Photoshop, developed its free mobile version called Photoshop Express. Along with the standard photo editing tools you would expect to find in a mobile Photoshop version like cropping, rotating, flipping, exposure, contrast, sharpening, and noise reduction, the app offers a hefty set of filters and borders. It also includes one-tap auto-enhance feature, as well as red eye and blemishes correction tools. Additional advanced tool and filter packs can be acquired within the app.
Editing Photos in Adobe Photoshop Express