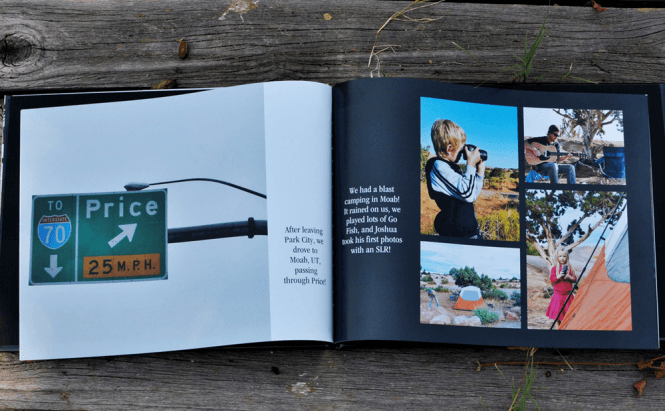 Best Photo Book Services Online
As far as I'm concerned, photo books are one of the most underrated gifts on the market. It's true that they are commonly something you give to a family member (or a soon-to-become family member), but they can be used in many other different situations as well. I know what you are going say: why use photo books when you have Facebook, Instagram and other websites where you can store and share your photos, but the answer is pretty simple. Can you tell me with any degree of certainty that any of your social media accounts will still be there in ten or twenty years? Furthermore, looking at pictures through a computer screen is nowhere near as personal as holding a book in your hands. In case I've piqued your interest, here are a few of the best online photo book creation websites that you can find.
Being totally honest, initially I wanted to offer a ranking of the websites included in this list but I couldn't, because each service has its own pros and cons and each are better suited for certain situations. Since I know this is the Internet and we are not all living in the same country, all the sites I've included provide worldwide shipping services (excepting a few countries), so there is no need to worry about that. Before you begin, you should know that in order to look good, a photo book requires at least 20 photos so make sure you have the required images at hand.
Shutterfly
Shutterfly
Shutterfly is the largest and most popular photo book service that you can find. This website will provide you with templates in case you're in a hurry but if you choose the Custom Path, you will surely be delighted with its diversity. You will be able to choose from over 200 themes and 6 cover options (including leather or crushed silk). Its interface is pretty easy to manage, the creation process will take a moderate amount of time and prices range from $20 to $70 (for the default number of pages), so it's not very costly.
As far as downsides go, I only found a couple: First, the website will only work with JPG files, so if your photos are in a different format, you will need to use a converter (or an image editor that lets you save images in a different format). And second, the photo book creation process will be started in the same tab and window that you were in, and that can prove to be a problem if you are planning to multitask.
Conclusion: If you're into details and plan to put a lot of thought into your gift, then this is probably the best website for you.
Mixbook
Mix Book
Mixbook is one of the newer photo book services on the market, but also one of the best out there. The website is very neat and well designed so you will easily understand how everything works and quickly find the features that you are looking for. In terms of design options, the number is slightly lower than the ones offered by Shutterfly, but the not by much. As far as advantages go, Mixbook is capable of working with multiple image formats, it has a better-looking (more modern) interface than almost every other choice, and it is a bit cheaper than Shutterfly. Its prices range from $13 to $65 for the default number of pages.
I didn't find any actual disadvantages of using Mixbook but if you insist, the only slight drawback is that the printed version of the cover might look a little different (a bit darker) than the one you see on the website. Other than that, Mixbook has somehow managed to take the important qualities that the other services have and blend them into an even better end product.
Blurb Photo Book
Blurb Photo Book
The simplest way to characterize Blurb would be by saying it is the luxury photo book service. This website stands out through its extraordinary design (in my opinion the best there is) and provides an abundance of templates, themes and layouts, multiple paper choices and some great drawing and text adding tools. Prices vary depending on the paper you decide to use, but the cheapest version can go as low as $13 for the standard number of pages.
If you're interested in the disadvantages of using this service, you should know that there are some problems with the formatting of the texts (it can be hard to make it fit they way you want to). This results in a slow creation process (especially if you decide to edit or replace something). However, if you are a professional and want your photo book to be a luxurious work of art, this is the place to go to.
MPix Photo Book
MPix Photo Book
MPix Photo Book is probably the most expensive online photo book service but it's also quite good. The website offers templates and layouts for a wide variety of occasions and purposes so the lack of creative options will not be a problem. Furthermore, another plus comes from the online creation tool which features a neat and intuitive design.
However, when it comes to disadvantages there are quite a few major ones, the most important one being the price. Another big problem from my perspective was the fact that the Mpix looses a lot of the photos' expressiveness when embedding them into the book. Technically speaking, when you add a picture into the book, the contrast is flattened, the saturation is suppressed and it loses its shadows.
Montage
Montage
Montage is the best photo book service for those who are pressed by time. The website has an intuitive, intelligent design allowing you to quickly create photo books while still coming up with a great looking end product. What I really liked is that this was the only service (out of the ones I tested) which allows you to upload images by dragging and dropping them, thus saving valuable time. Moreover, another big plus is that the website's algorithms are capable of automatically analyzing and organizing your photos based on chronology and importance.
To be completely honest, you won't have as many cover, paper or layout options as you would on other websites, but that doesn't mean that your loved one won't end up with a great-looking photo book. The pricing isn't that bad either: a 20 to 120 photos, 8.5-inch square book with lay-flat pages and leather covers will only cost you about $60, and you can have it designed in less than 15 minutes.
Pint Size Productions
Pint Size Productions
Pint Size Productions is my least favorite service, but that's just a personal opinion and not a fact. As far as I'm concerned, the photo-books that you can create using this website are only nice for babies or kids, and I don't know too many children who like to reminisce. However, if you're looking at the product through the eyes of your inner-child, it's quite cute. This service lets you customize already existent books are create your own.
As far as I can tell, the biggest drawback for using this service is its website, which is pretty rough at the edges and the fact that you have to upload each picture individually is also quite annoying. Prices range between $5.50 and $35 for standard books.