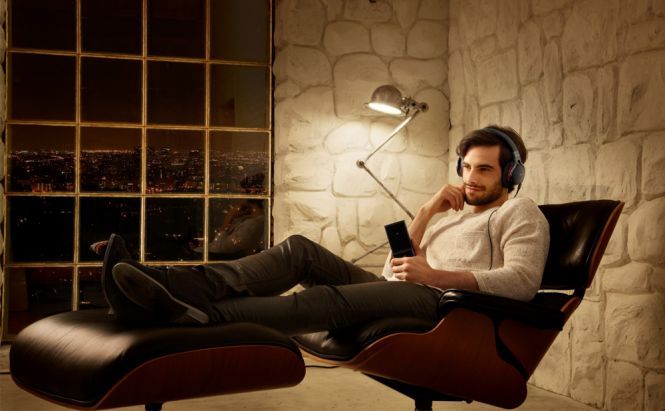 CES 2015: Best Tech Products for Audiophiles
Every year, among a myriad of hot new gadgets unveiled at International Consumer Electronics Show, there's always a selection of interesting fresh audio tech products. CES 2015 is no exception, offering this year quite a range of devices an audiophile can lay an eye on. So, if you can't live without music, you should be looking into the five brand-new audio products shown at CES 2015 we picked up for you.
1. Sony Walkman ZX2
Sony Walkman ZX2
Targeting the audiophile market, Sony introduced at CES 2015 their new premium high-fidelity audio player Walkman ZX2. This Android-running music device comes with 128GB of built-in memory as well as a microSD card slot for even more storage for those who can't get enough music. As you may guess, the device supports any kind of audio format including FLAC, ALAC, and DSD. It even has support for NFC allowing for easy connection between the Walkman and headphones or speakers. Having a matte leather-textured case with carved playback buttons, the Walkman ZX2 features an impressive design, but comes at the rather steep price of $1200.
2. Neil Young's PonoPlayer
PonoPlayer by Neil Young
Another exclusive music player for audiophiles was backed by legendary musician Neil Young. Announced a year ago on Kickstarter, PonoPlayer raised $3.2 million when the original goal was only $800 000. The triangular music player features 64GB of built-in storage and a microSD slot with the capability to contain a 64GB card and supports a great range of audio formats including FLAC, ALAC, and AAC. Besides, it can reproduce 16-bit/44.1kHz to 24-bit/192kHz high-resolution sound. PonoPlayer sports two outputs: the first one is used for personal listening in your headphones and the other jack is for plugging into professional audio systems, a feature you won't find in a regular player. What makes PonoPlayer even more exclusive is that it can be purchased only at 80 locations across the US, at a price tag of $399.
3. Google Cast Ready speakers
Google Cast Ready speakers
If you're more into listening to music at home, then you should definitely like Google Cast for audio, announced by Google, which lets you playback audio from apps directly to speakers, sound bars, and A/V receivers. To get your music streamed directly from the cloud to Cast Ready speakers, you just need to hit the Cast button and you will get the best audio quality. Cast Ready speakers will work with a range of popular apps such as Deezer, Google Play Music, iHeartRadio, Pandora,TuneIn, and many more. According to Google, such renown brands as Sony, LG, and HEOS by Denon will release devices supporting Google Cast for audio as early as this spring.
4. Samsung 360-degree speakers

Samsung 360 degree speakers
Another way of listening to your music at home as well outdoors is offered by Samsung that has unveiled at CES 2015 its two 360-degree speakers. Designed in the shape of a white capsule, one of the product models actually resembles Eve, a robot character from WALL-E, while the other, movable version with a built-in battery, looks more like an electric kettle. Samsung claims that speakers produce an effect that allows 'sound to flow in a 360-degree radius' with the help of 'Ring Radiator' technology. Both speakers support Bluetooth and can be wirelessly connected to audio sources.
5. Monster Superstar Backfloat
Monster Superstar Backfloat
Another interesting Bluetooth speaker device was shown at the event by Monster. SuperStar BackFloat will be a perfect companion if you want to throw a pool or jacuzzi party as it can float on the surface of water while playing music. Bluetoooth-enabled, the waterproof device can be controlled through your smartphone or tablet. Moreover, BackFloat also features integrated microphones that can also function as a speakerphone, so you can receive calls and control your playlist without leaving the water. Designed by the company which is famous for their high quality audio products, BackFloat promises powerful and rich sound experience. The speaker will come at $169.