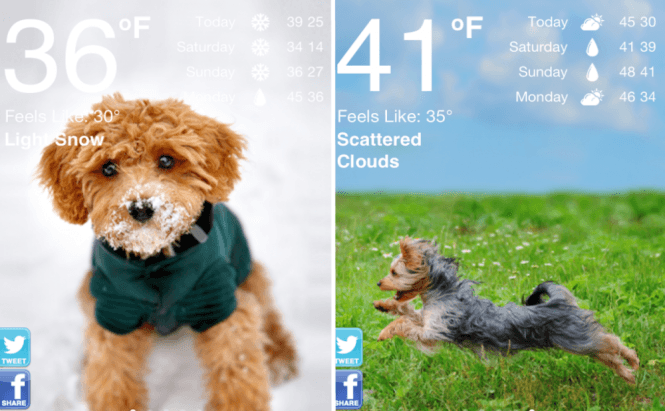 Check the weather with a smile
There are so many apps offering weather forecasts on the market, that the developers have to work hard to attract the users with something new and unusual.
Hey Girl Weather is the one of such applications the main goal of which is to actually predict weather conditions and, by the way, get you seduced by...Ryan Gosling, a famous Canadian movie star, and surely a girls dream! Every time you want to see how much degrees is out there, this eye-candy sex symbol will please you with some juicy commentaries on the weather and the clothes you wear, or should wear, according to the weather conditions. I assure you, you will be checking the weather more often!
Another application I'd recommend you is Car Wash! This utility will keep your wallet tight by saving on your car cleaning. It offers accurate weather forecast taken from the four most reliable resources and shows its overall average with the main goal: to instruct you when you should wash your car for it to stay clean as long as possible! No more irritating feelings about the car being just washed and then covered in mud the same day, because of the rain!
Here is an app intended for fishing lovers! None other but them know how it is important to choose the most suitable time for fishing not to be left without dinner.
With this tool, you will be able to accurately plan your fishing outings according to the days promising the most favorable bite!
With Weather Puppy you will be melting every time you check the weather!You will learn if the weather is favorable or not just by looking at a puppy: Cold? A puppy is sleeping or covered with a blanket. Hot? A puppy will be breathing with his tongue out! He sleeps and is up according to the due time. The app will surely become a favorite among all girls and dog lovers. The great thing is that you can use your own doggy pictures to create your own theme! This is just fantastic!