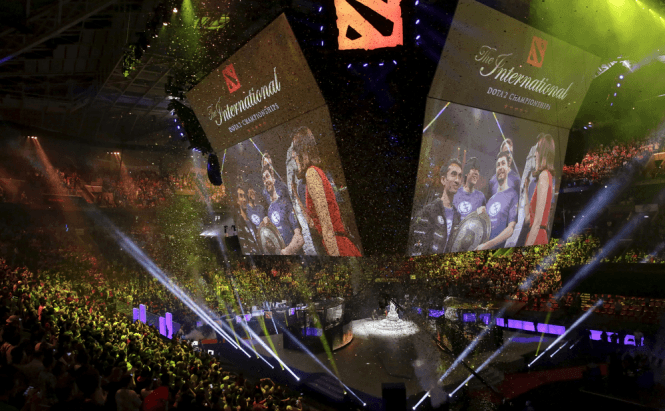 Dota 2 fans will be able to watch TI 2016 in VR
I've got some good news for the Dota 2 fans: Valve has just released the Dota VR HUB, which means that you will be able to watch The International 2016 (that starts in just four days) in the most immersive way possible. To be perfectly honest, I haven't been able to test the VR application yet, but judging from the videos that I've seen, things look pretty awesome. Of course, in order to use the app you will need a SteamVR capable console with tracked controllers.
The app is designed to be a social one, so even though you can watch games alone, it's best if you do so with your friends. The main interface looks like a theater hall where you can see the other people in your room, a big screen showing the actual game, a smaller screen on the bottom displaying the mini map and the experience and gold graphs to the sides of the mini map. Additionally, you can see 360-degree representations of the two team's heroes on the sides, along with their items, levels, health and mana bars. You can also talk to the people in your room, listen in the in-game broadcaster and use your hands to point out events. What's really cool is that you can also jump into the game and watch the in-game action happening around you. Since the biggest competition in E-Sports, The International is just a few days away, it's no surprise that Valve gave its best to launch the VR application as soon as possible. In case you were wondering, the prize pool for the International 2016 currently stands at $18.9 million.
If you're interested in VR-related stories, you might also want to read "The best games for Samsung's Gear VR" or "Top 6 VR games for iPhones".