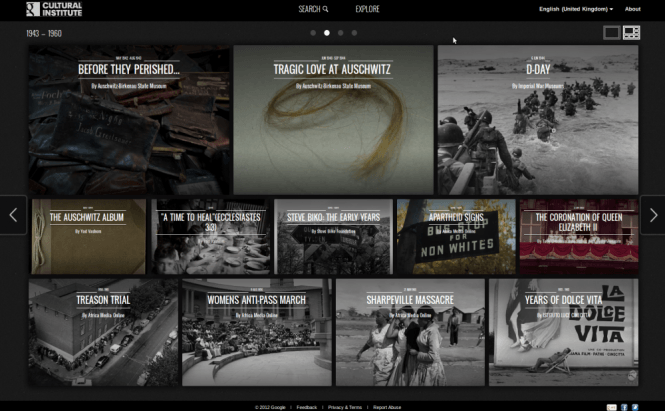 Google's Online Exhibitions: Treasure for Future Generations
Exploration of human history has always been considered to be an essential part of people's life: unveiling information and facts which are bound up with the culture and the actions of our ancestors proves to be a sort of exploration of our own identity. Google seem to understand that, since now you can explore new historical exhibitions on its Cultural Institute website.
Google's Online Exhibition: Steve Biko
Since yesterday, the Google Cultural Institute has been presenting a collection of 42 web exhibitions. The project is aimed to satisfy the increasing demand in investigation of missing parts of history. The collection itself includes materials dedicated to major events of the 20th and 21th centuries, ranging from D-day and the struggle for civil rights in South Africa to tragic love stories. Each historical narrative is accompanied by a mixture of archival materials: first-hand photos and videos, manuscripts, letters, and other historical documents. Most of the stories will stir your heart and some of them, as Google claims, are very unique and actually exclusive to the Internet users.
Google's Online Exhibition: the coronation of Queen Elizabeth II
Apart from the stylish sliding exhibitions, the whole interface of the project is surprisingly polished and pleasant to look at and use. To my mind, for some users this historical collection may not even seem like Google's project at all, as they usually use a plain and simple design in their products.
According Mark Yoshitake, the product manager of the Google Cultural Institute, this mixed-media tour is supposed to be a so-called online educational resource that would preserve the historical value for the future generations. ''The historical collections are the latest chapter in the work of the Google Cultural Institute, following the Art Project, World Wonders and the Nelson Mandela archives,'' Mark Yoshitake said in the official Google blog. ''We're working closely with museums, foundations and other archives around the world to make more cultural and historical material accessible online and by doing so preserve it for future generations.''
Google have done a really great job and should expand this project to the furthest extent possible. Who knows how people's existence will change in the future, and what impact the rapid advance of technology will have on our children? They still must know their origins and the development of human culture.